Second drillship expected to arrive in Mediterranean by end of January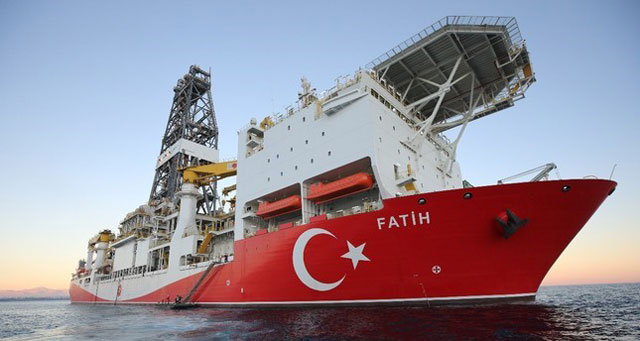 Turkey's ongoing efforts in the exploration of hydrocarbon reserves in the Mediterranean as part of its national energy and mining policy will be further accelerated with the arrival of a second drillship next month.
In the past year Turkey has accelerated efforts to become a key energy player in the Mediterranean where hydrocarbon reserves are a major cause of dispute among regional states due to the lack of a comprehensive agreement to ensure an equitable and reasonable share of the resources. Without compromising its sovereign rights, Turkey has increased its hydrocarbon exploration and drilling operations with the deployment of a seismic survey vessel and a drillship in late October. As part of these efforts, the country is now about to welcome its second drillship to expand well-drilling operations in the Mediterranean.
The second drilling vessel purchased by Turkey is expected to arrive in Mediterranean waters by the end of January 2019, Energy Minister Fatih Donmez announced Saturday.
Energy Minister Donmez's remarks came during an event celebrating the 25th anniversary of the Natural Gas Appliance Manufacturers and Businessmen's Association of Turkey (DOSİDER) in Istanbul.
Donmez highlighted Turkey's ongoing efforts in the exploration of hydrocarbon reserves on land and in its territorial waters as part of its national energy and mining policy that aims to ensure Turkey meets its energy needs from its own sources.
"We expect the second drilling vessel to depart today [Saturday] and arrive in the Mediterranean by the end of January [2019]. With this vessel, we will continue our drilling activities both in the Mediterranean and the Black Sea," he added. The minister did not specify the vessel's name or port of origin.
The minister noted that Turkey's two seismic vessels, Barbaros Hayrettin Pasa and MTA Oruc Reis, were continuing seismic surveys in the Black Sea, and the Mediterranean, respectively.
Barbaros Hayrettin Pasa, Turkey's first seismic vessel, was bought from Norway in 2013 and has been conducting surveys in the Mediterranean since April 2017. MTA Oruc Reis was built by Turkish engineers in a local shipyard in Istanbul and has been in operation since late June 2017.
Donmez recalled that Turkey started its first deep-sea drilling offshore Antalya on the Mediterranean coast on Oct. 30 with the drilling vessel Fatih.In addition to deep-sea drilling in Antalya, the ministry launched shallow water drilling offshore of Mersin in Mediterranean Turkey on Nov. 26.
"Drilling operations are also ongoing in shallow waters off Mersin [in southern Turkey]. We will continue to explore [oil and gas reserves] in this region," the minister said.
Shallow well development operations at the Kuzey Erdemli-1, located 19 nautical miles from Mersin's shores, are expected to last for 60 days. The shallow wells will be drilled at a depth of 101 meters and 90 meters. As part of its licenses in the Eastern Mediterranean, Turkey will initially drill two shallow wells, designed and planned by Turkish engineers.
The drilling platform will be transferred to Adana after two months of operations in Mersin and will start drilling the Kuzupınarı-1 well in the Mediterranean town. Drilling offshore of Adana will last four months and reach a depth of 4,100 meters.
Source: Daily Sabah
Turkey becomes European base for production of gas equipment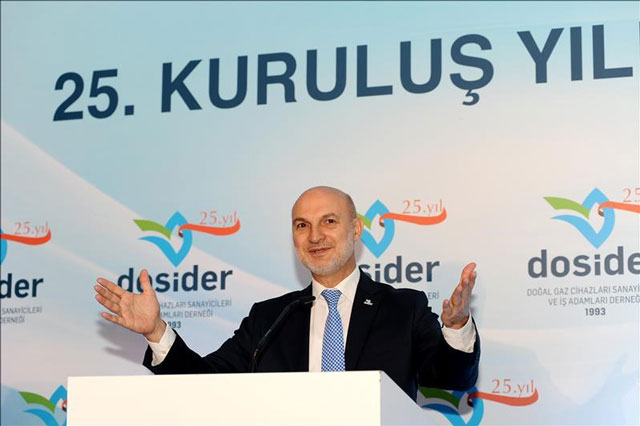 During the 25th Anniversary Program of Natural Gas Appliance Manufacturers and Businessmen's Association of Turkey (DOSİDER), Chairman Ömer Cihad Vardan said that Turkey has been producing and exporting natural gas equipment, while these devices used to be imported 25 years ago.
"There is a market volume of TL 8 billion ($1.51 billion) in the domestic market. Exports, on the other hand, exceed $1 billion. With both domestic and foreign direct investments, our country has become the production base of Europe in this field," Vardan said.
DOSIDER is the umbrella organization for 29 companies that manufacture various devices used for the natural gas transmission and distribution.
Vardan noted that natural gas is used in the whole country with a volume exceeding 15 million subscribers and more than 55 billion cubic meters, adding that the increase in gas distribution expansion investments ensured the production of these products in Turkey. The country first started to import gas in 1987 from Russia. Annual natural gas imports exceed 53 billion cubic meters.
The chairman said that as of today, there are 2 million central heating boilers produced in Turkey, and that half are used in Turkey, while the rest are exported. He stressed that this development is not limited to boilers alone, saying there is a panel production capacity exceeding 22 million cubic meters with 5 million natural gas meters per year.
"With both domestic and foreign direct investments, our country has become a production base for Europe in this field. This is a sector that has made a serious economic contribution to our country. There is a market volume of TL 8 billion in the domestic market. Exports exceed $1 billion," Vardan continued. "A very important part of this export is going to Europe, especially to Germany and Britain. In addition, Turkey has received investment from the Far East, and we are exporting central heating boilers to China today."
The DOSIDER chairman said the sector has become a direct employer of 20,000 people, while providing 200,000 people with indirect employment. He underlined that all of these figures are of great importance in terms of positioning Turkey at the top of the world's economy league and reducing the current deficit.
Source: Daily Sabah
Exergy to supply first-ever Made-in-Turkey generator for 10 MWe geothermal power plant
Exergy, a subsidiary of Italy's Maccaferri Industrial Group, has attained the Turkish Certification for local manufacturing of generators thanks to collaboration with Nidec ASI, a multinational specialized in heavy duty industrial applications, according to a press release from Exergy, the producer of the Organic Rankine Cycle (ORC) systems for electricity production from renewable energy sources and waste heat resources.
As a result, the first Made-in-Turkey generator ever supplied in the Turkish market, designed by Nidec ASI, will be installed on a 10 MWe geothermal power plant for Exergy's customer Kiper Elektrik Uretim A.S., part of Kipas Holding group.
Thanks to the additional certification for locally manufactured generators Exergy will allow its customer to benefit from a further 0.7 USDcent/kWh, on top of the basic feed-in-tariff rate of 10.5 USDcent/kWh and from the 1.3 USDcent/kWh bonus already granted with the local turbine and auxiliaries production, thus boosting profitability of power plants for its customers with approximately a 19% increase in revenues, according to the press release.
The Made-in-Turkey certification was attained with a local contribution of almost 60% on the total commercial manufacturing value for the generator.
To date, Exergy's certified local manufacturing in Turkey counts 26 Turbines, 26 Exhaust systems, 15 Lube Oil systems, 13 Speed Control systems and 1 generator for total 13 geothermal power plants and an overall economic value of component production in Turkey of approximately EUR 50 million. An additional 3 turbines and 7 other power plant components are under manufacturing at this moment.  Thanks to the strategic alliance with NIDEC another 2 generators are already in the pipeline and will be manufactured in 2019.
With a local manufacturing facility in Izmir, a workforce of 20 skilled professionals and approximately 400 MWe capacity in operation or under construction in Turkey, Exergy is a leading company in the supply of Organic Rankine Cycle power plants for power generation from renewables including geothermal, biomass, solar and from waste heat recovery in industrial processes and power stations, the press release reads.
Source: Balkan Green Energy News
Russia ready for competition in Turkey with cheap gas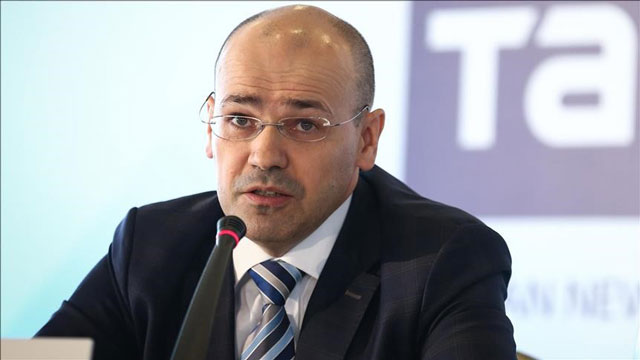 Russia is up for competition with other suppliers for Turkey's gas and from alternative LNG sources in the region, Konstantin Simonov, director of Russia National Energy Security Fund said in an exclusive interview with Anadolu Agency.
There has been a decline in Russia's share of Turkey's gas imports with a decrease from 63 percent in 2007 to 52 percent in 2017, Simonov told Anadolu Agency, but also noted that gas is playing an increasing role in the Turkish economy.
Simonov acknowledged the serious competition that Russia is facing in the Turkish market with many alternative source options from Iran and Azerbaijan, and from LNG.
"We see a decline of the share but increasing consumption of Russian gas. But this decline shows that you have an opportunity to buy alternative gas. You have LNG terminals and you are building more, but we're not afraid of this competition," he asserted.
He cited the reason for this confidence is because Russian gas is cheaper than other competitors and explained that Turkey is continuing to consume it because Russia can guarantee supplies to meet increased demand.
He also recognized the possibility that Turkey can receive Turkmenistan gas through a new pipeline as Azerbaijan, Iran, Kazakhstan, Russia and Turkmenistan reached a deal on the legal status of the Caspian Sea resources in August.
After the fall of the Soviet Union, the Caspian littoral states started negotiations over the legal status of the sea. However, wide divisions between these countries created a deadlock, preventing the sharing of the sea's rich hydrocarbon resources.
According to the agreement, an area of 15 nautical miles from the coast will be regarded as each respective country's territory.
He explained that Russia was put to the test during "the jet crisis" between Turkey and Russia in November 2015, in which Moscow opted not to stop gas supplies to Ankara.
"In my opinion 2015 was a serious test for [Russia's state-owned gas giant] Gazprom," he said, adding that if Gazprom did not stop supplies at that time when bilateral relations were at crisis point and in which Gazprom refrained from using the circumstances as a political instrument, then they will not stop for any other reason in the future.
"There was really a serious debate in Russia with major pressure on Putin but Gazprom didn't use natural gas as a political instrument," he declared.
-Russia's gas share in Europe on the rise
Simonov spoke openly in addressing the concerns that Europe has with increasing gas dependence on Russia.
For the last ten years, I have heard the warnings over Europe's dependency on Russia gas as "danger, danger danger," he explained, adding that this rhetoric is groundless as there are no examples that show that Russia has used this dependency as an instrument of political pressure.
"In reality we see the increasing share of Russian gas in the European market," he said.
"We're still the main player in the European gas market, not only because of cheap gas but because only Russia can supply gas at peak times during the winter.
He claimed that no other country can do so, and cited the example of Norway and the U.S., two countries that are unable to supply extra gas flows.
He concluded that, "LNG won't save you in the cold winter time if the temperature is lower than forecast."
Source: AA Energy
Accelerating Clean Energy Investments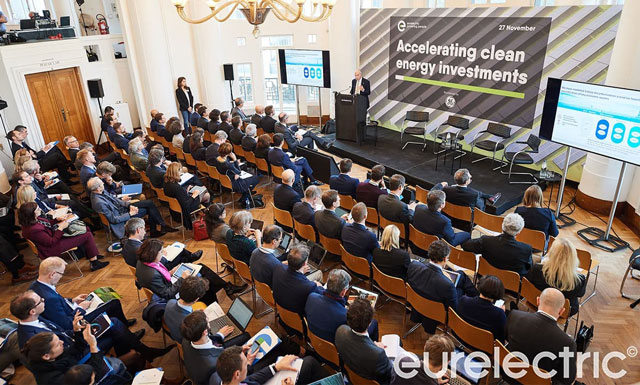 On Tuesday 27 November, Eurelectric brought together a stellar line-up to discuss the fundamentals of decarbonization and the means for accelerating clean investments. Over 150 participants joined the discussions with Eurelectric's President, Francesco Starace, Commission's Vice President, Maroš Šefčovič and IEA chief Fatih Birol, and prominent CEOs of the power sector.
Decarbonization pathways, the study released on 26 November, set the scene for discussions. It shows that by 2045 the power sector can be fully carbon neutral, as the bulk of renewables will cover over 80% of supply. Decarbonizing electricity can be done at a convenient price and at a faster pace.
How can we decarbonize?
Francesco Starace elaborated on the four key elements that will contribute to achieving carbon neutrality: build-up of transmission systems to fully integrate renewables; balancing and flexibility sources to ensure system reliability; incremental phase out of fossil generation; and commercial availability of carbon neutral technologies.
"As the costs for renewables have fallen significantly, the overall cost of carbon-neutral electricity generation has been reduced drastically in recent years. [..] We need to find the consensus of society and to be clear that the just transition needs to be a sustainable way of driving this change" – said Francesco Starace, President of Eurelectric and CEO of Enel.
Giving a flavor of the global picture, Fatih Birol further emphasized the local and regional particularities. He posited that "the global energy demand grows fast, but the global electricity demand grows two times faster". Thus, infrastructure investments paired with cross-sectorial synergies are essential to ensure that renewables are less of a challenge for the systems.
"Wind will be the number one source of electricity generation. Offshore wind is the lion share. […] Europe has a comparative advantage in terms of offshore wind and should lead the international agenda."
Commission's Vice President, Maroš Šefčovič addressed the urgent need for Europe to find concrete pathways for meeting the Paris Agreement commitments. To his views, "electrification presents this potential". To enable it, Europe needs to move away from former sector silos, by: increasing cooperation and coordination; having long term market signals; developing synergies, especially in infrastructure, research and innovation.
"In Europe, we need to be vigilant. We need to be pioneers. Last year we have started the Battery Alliance. The energy storage and batteries are the Holy grail for integrating renewables." – said Commission's Vice President, Maroš Šefčovič.
Source: Eurelectric
Poland Climate Summit Wrapping Up as More Action Urged
Amidst some discord, world leaders in Poland for the COP24 U.N. climate summit are fine tuning steps to curb the wide-reaching devastation of global warming.
Nearly 200 countries are attending the 12-day climate talks in Katowice, where they are finalizing regulations arising from the 2015 Paris accord. On Tuesday, U.N. climate chief Patricia Espinosa encouraged delegates to work in a "spirit of unity," the Associated Press reported.
Just one day earlier, the U.S. received faint support for an event promoting greenhouse-gas-causing fossil fuels, the Guardian reported. Only Australia showed support, while several dozen environmental activists chanted "Shame on you," and "Keep it in the ground," according to the Guardian.
Countries attending the talks are being encouraged to take on a more vigorous approach to decreasing ozone-depleting emissions. Developing countries, meanwhile, are looking for financial assistance in tackling the issue.
"There are national realities that are different, and national capabilities that are different. And translating this into rules is very hard," Espinosa said of the talks over the weekend, Politico reported.
Hoesung Lee, chairman of the Intergovernmental Panel on Climate Change, told attendees that "urgent action is needed" to tackle global warming, the AP reported. "We are moving in the right direction in many areas, but we need to do more and faster."
Several foreign activists have denounced Poland's Border Guard for detaining or deporting them since the start of the conference, according to the AP. Maria Kolesnikova, an activist who came to the summit from Kyrgyzstan said these actions took away the "opportunity to voice my concerns."
The talks conclude Dec. 14.
Meanwhile, Germany announced Tuesday it is hesitant to host the 2019 U.N. climate panels. Deputy environment minister Jochen Flasbarth told reporters Berlin would not be able to host "an event on the scale of last year."
Source: Fortune
U.S. Department of Energy and Italy's Ministry of Education, Universities, and Research to Collaborate on Particle Accelerator Construction
U.S. Department of Energy (DOE) and Italy's Ministry of Education, Universities and Research (MIUR) signed an agreement to collaborate on the development and production of technical components for PIP-II, a major U.S. particle accelerator project to be located at DOE's Fermi National Accelerator Laboratory in Batavia, Illinois. The signing took place at the Embassy of Italy in Washington.
Italy and its National Institute of Nuclear Physics (INFN) will provide major contributions to the construction of the 176-meter-long superconducting particle accelerator that is the centerpiece of the PIP-II (Proton Improvement Plan-II) project. The new accelerator will become the heart of the Fermilab accelerator complex and provide the proton beam to power a broad program of accelerator-based particle physics research for many decades to come. In particular, PIP-II will enable the world's most powerful high-energy neutrino beam to power the international Fermilab-hosted Deep Underground Neutrino Experiment (DUNE).
"It is with great appreciation that the Department of Energy enters into this agreement with our partners at MIUR and INFN," said DOE Under Secretary for Science Paul Dabbar.  "We're proud that Fermilab's PIP-II accelerator project, designed to create one of the most advanced machines for enabling discovery in the United States, is attracting major contributions from international partners for its construction."
"The Agreement signed today by the Italian Ministry of Education, Universities and Research and DOE is the latest example of the scope and breadth of the scientific and technological cooperation between our two countries and of the importance of international cooperation," said Armando Varricchio, Ambassador of Italy to the United States. "This new step in our cooperation comes at a very significant time as we celebrate the 30th anniversary of the U.S.-Italy Agreement on Scientific and Technological Cooperation and renew our bilateral projects portfolio for the next three years."
The INFN Laboratory for Accelerators and Applied Superconductivity is expected to build components for the PIP-II accelerator. Based in Segrate, Italy, the laboratory is a center of excellence on an international scale for the development of advanced particle accelerators technologies.
At the signing, representatives from both countries recognized the long tradition of collaboration between Italian scientists and Fermilab, named after Italy's own Enrico Fermi.
"Following a long tradition of collaboration, the engagement of INFN on the construction of the PIP-II accelerator constitutes an important step in the context of unraveling neutrino properties through the ambitious DUNE project," said INFN President Fernando Ferroni.
The centerpiece of the PIP-II project will be an 800-million-electronvolt superconducting linear accelerator, which will modernize the front end of the existing Fermilab accelerator chain and provide a platform for future enhancements. The new accelerator will feature acceleration cavities made of niobium and double the beam energy of its predecessor. Such a boost will enable the Fermilab accelerator complex to achieve megawatt-scale proton beam power.
"It's exciting to think that, in just a few years, the new PIP-II accelerator will produce some of the world's most intense neutrino beams, which could give us a clearer picture of our universe's evolution," said Fermilab Director Nigel Lockyer. "This bright future is thanks in large part to our Italian partners. And since these partnerships strengthen over time, we could very well build on the relationship for future exciting projects in fundamental science."
In addition to Italy, other international partners are making significant contributions to PIP-II. They include India, the United Kingdom, and France. DOE's Argonne and Lawrence Berkeley National Laboratories are also contributing key components to the project.
The partnership is one example of the increasingly global character of particle physics-related projects. The PIP-II accelerator complex will be made available to the international particle physics community and will extend the scientific discovery potential beyond that which currently can be reached.
Source: DOE
One million EVs sold in US, and half of them in California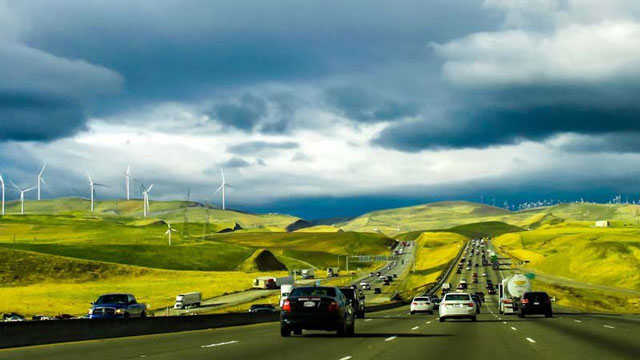 Californians have reached a major cumulative milestone in the shift to electric cars, crossing the half a million mark for numbers of electric vehicles sold in the state.
This represents nearly half of all EV sales in the country which reached the 1-million-mark last month, and has been the result of soaring EV sales in 2018 – in fact, a third of all electric cars across the country were bought in the last 12 months.
In California, over 150,000 out of the total 500,000 electric cars were bought in 2018, with almost a third of those – 44,000  – bought in November 2018 alone, an increase of 164 per cent from the same time the previous year.
"Reaching 500,000 electric vehicles in California is yet another indicator that the future of transportation is electric," said Veloz board chair David Hochschild in statement.
"And that future is approaching faster than ever," he says, adding that he believes that at this rate California alone will reach 5 million EVs by 2030.
Source: The driven
REPORT OF THE WEEK
EU Energy in Figures
The energy sector is one of the pillars of growth, competitiveness and development for modern economies. To keep up with the ongoing transformation of the energy sector in Europe, we need data that is accurate and up-to-date.
This publication provides an overview of the most relevant annual energy related statistics for the European Union as a whole and for each of its Member States.
Please click here to read the full report.