Erdoğan announces discounts on residence electricity and natural gas prices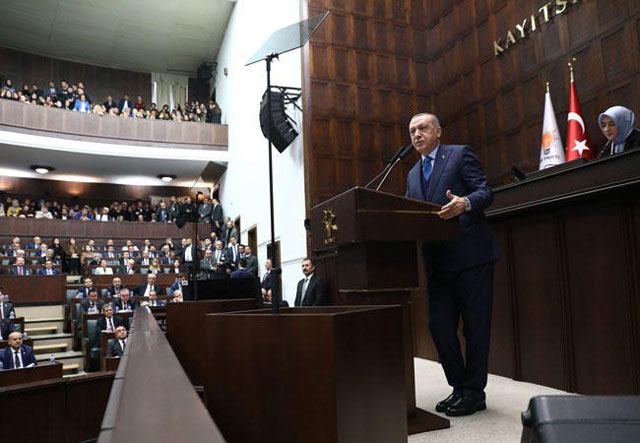 President Recep Tayyip Erdoğan on Dec. 25 announced a set of moves ahead of local elections including a discount on household natural gas prices and an increase in the minimum wage rate.
"Using the feasibility of our budget in the best way, we, as Turkey, will continue to grow," Erdoğan told lawmakers of his ruling Justice and Development Party (AKP) in parliament.
The country is in a rapid recovery process in its economy, Erdoğan said, pledging to alleviate Turkey to 12th largest economy in the world in terms of purchasing power parity (PPP) in 2019, noting that it is currently the world's 13th largest economy.
As of the new year, the government will make a 10 percent discount on household electricity, and the same rate will apply for natural gas for both households and small to mid-sized enterprises, he announced.
Turkey will continue to support the business world in terms of employment and extend regional employment incentives, he added.
In the upcoming period, the government will review tax policies in a "holistic and fair manner," he said. For the first time in 2019 and 2020, the state will assume all insurance and tax expenses of an employee over the minimum wage and the government will increase the employment incentive period for women, young and disabled persons from 12 months to 18 months.
The government has allocated a 62.1 billion lira resource for social assistance projects, Erdoğan said, recalling discounts in value added tax on several goods such as food and medicine. The government has given up 8 billion liras worth of special consumption tax for citizens, he added.
Erdoğan said they plan to bring unemployment rate to single digits and were determined to reduce the inflation rate to the targeted level in 2019. The president added that the current account deficit will drop below $30 billion by the end of 2018.
Unemployment rate in Turkey stood at 11.4 percent in September, according to the Turkish Statistical Institute (TÜİK).
The Turkish Central Bank had said the 12-month rolling deficit fell to $39.4 billion as of October. In 2017, Turkey's annual current account deficit was some $47.5 billion — around 5.6 percent of the country's GDP.
Source: Hurriyet Daily News
Turkey could export renewables to its region: IEA Head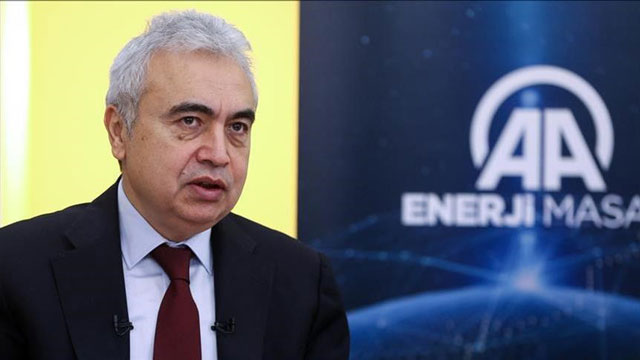 Turkey could be the exporter of renewable energy technologies and its know-how to potential Middle Eastern, Caucasian and African markets if the country can successfully realize its Renewable Energy Resource Zones projects and increase its potential, Executive Director of International Energy Agency (IEA) told Anadolu Agency.
Turkey, with its limited domestic resources and dependency on expensive energy imports, strives to increase the share of renewables in its energy mix. The country launched an initiative, Renewable Energy Resource Zones, to increase investments in and electricity generation from the renewables. Last year, the country had tenders for 1,000 solar and 1,000 megawatts as a part of this initiative, of which the prices per megawatthour were $6.99 and $3.48, respectively.
IEA Executive Director, Dr. Fatih Birol, said in a recent interview that the model of Renewable Energy Resource Zones is perfect for utilizing Turkey's renewable potential, especially in solar and wind.
"The renewables are not only good for Turkey in terms of climate change targets but also in terms of energy security. Because the more Turkey has renewables in the mix, the less it will be dependent on imports which largely contribute to the country's current account deficit," he said.
Also, the costs of renewables are falling and this could enable more investments, he said.
"That was actually one of my dreams that Turkey, while importing gas and oil from the Middle East, could export renewable energy technologies, know-how and investment to its region. Even though the Middle East has the highest solar potential in the world, the countries here do not have enough experience to utilize this potential," Birol explained.
"Thus, I think Turkey could play a significant role in terms of exports to Middle East, Caucasian. Africa, too, could also be a very good export market for Turkey," he said.
Climate change targets at risk
Birol said these steps in bolstering Turkey's renewables expansion is also helping the efforts to tackle climate change, which energy sector is the largest contributor to the emissions.
At COP 21 in Paris, on Dec. 12, 2015, parties reached a landmark agreement to combat climate change and to accelerate and intensify the actions and investments needed for a sustainable low carbon future. The Paris Agreement aims to keep a global temperature rise this century below 2 degrees Celsius above pre-industrial levels and to maintain efforts to limit the temperature increase even further to 1.5 degrees Celsius.
The parties to Paris Agreement agreed on a "book of rules" that provides a guideline for realizing the targets in the 24th Session of the UN Climate Change Conference (COP24) held on Dec. 2-14 in Katowice, Poland.
"All these steps, studies and targets are so special and precious but these targets do not reflect the data in the real life," Birol said and added that the global emissions of carbon dioxide do not fall or remain stable but instead rise.
"At IEA, when we look at the data for the first 11 months of 2018, we see that global emission of carbon dioxide is going to hit a historic high. Thus, I do not want to say yet that it is impossible to achieve the targets of Paris Agreement but it is getting harder," Birol concluded.
Source: AA Energy
Turkey lowers limit for power users to switch suppliers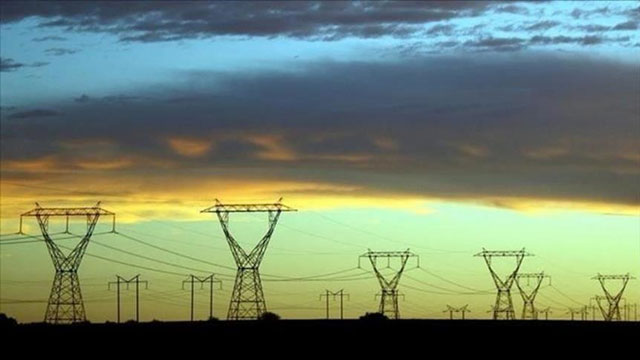 Turkey's Energy Market Regulatory Authority (EMRA) decreased the usage limit for electricity customers to become eligible to switch suppliers from 2,000 kilowatt-hours to 1,600 kilowatt-hours, EMRA said Friday.
From 2019, customers who use more than 1,600 kilowatt-hours of electricity per year will qualify as eligible customers who have the right to move to a power supplier of their choice, EPDK said in a statement. With the new limit, 19 million more electricity customers are set to become eligible in 2019.
- Latest limit qualifier equals monthly bill of 67 Turkish liras ($12.74)
In accordance with the latest decision, a customer with a monthly power bill of approximately 67 Turkish liras will be classified as an eligible consumer next year.
As part of Turkey's comprehensive program to liberalize and privatize the electricity market in 2001, the country's distribution network was divided into 21 distribution regions in 2013 and has started to lower customers' eligibility limits since 2003.
In 2003, EMRA started a consumer scheme to offer individual customers and legal and corporate entities, which consume more than 9 million kilowatt-hours of electricity a year, the opportunity to choose their preferred electricity supplier. EMRA has adjusted the limit in recent years to allow more people to qualify.
The biggest adjustment came in a meeting in January 2013, when the limit was lowered from 25,000 kilowatt-hours in 2012 to 5,000 kilowatt-hours in 2013. Since then, further modifications have been made. The limit was set as 4,500 kilowatt-hours in 2015, 3,600 kilowatt-hours in 2016, 2,400 kilowatt-hours in 2017 and 2,000 kilowatt-hours in 2018.
Source: AA Energy
SOCAR, BP to create new petrochemical joint venture in Turkey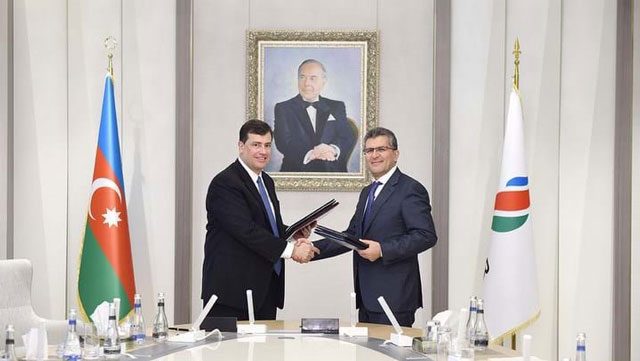 The proposed facility, in Aliaga in western Turkey, would produce 1.25 million tonnes per annum (tpa) of purified terephthalic acid (PTA), 840,000tpa paraxylene (PX) and 340,000tpa benzene.
PTA is used to manufacture polyesters, which have many uses including food and beverage containers, packaging materials, fabrics, films, and other consumer and industry applications.
Following the signing of the HoA, BP and SOCAR Turkey now expect to undertake design work for the facility, which would allow for the integration of feedstock supplies from the nearby new STAR refinery and Petkim petrochemicals complex, both owned by SOCAR Turkey.
Vagif Aliyev, chairman of the board of SOCAR Turkey, said: "We entered the Turkish market in 2008 with the acquisition of Petkim and since then have realised giant projects such as the STAR refinery, TANAP, Petlim Container Terminal and Petkim Wind Power Station. The area covering all of SOCAR Turkey's projects in Aliaga has recently become the first private industrial zone in Turkey."
"The immediate proximity to the feedstock and infrastructure provided by SOCAR's other facilities will contribute significantly to the competitive power of the new facility. Expanding our immense refining and petrochemical complex, built at the gateway to world markets on the Aegean coast of Turkey, we aim to continue to contribute to the economies of the two brother countries – Turkey and Azerbaijan."
Luis Sierra, CEO for BP's global aromatics unit, said: "If taken forward, this would be the largest integrated PTA, PX and aromatics complex in the Western Hemisphere and BP's first major new aromatics platform since our Zhuhai site in China opened nearly 20 years ago.The combination of BP's leading proprietary technology and integration with SOCAR's new refinery could create an outstanding platform to serve Turkey's growing polyester packaging and textiles industry. We look forward to drawing on the strengths of both BP and SOCAR to explore the creation of a highly competitive facility."
BP and SOCAR expect to work towards a potential final investment decision in 2019, which could result in start-up of the new plant in 2023.
BP's latest proprietary PTA technology has significantly lower capital and operating costs when compared with other PTA technologies. It is more energy efficient, uses less water and produces less solid waste than similar technologies on the market.
BP and SOCAR are long-standing partners in a number of major oil and gas production and transportation projects in Azerbaijan, Turkey and the wider region, including the Shah Deniz 2 gas project in Azerbaijan that began production early this year, exporting natural gas to Turkey and beyond.
"This proposed new investment is a 'win-win' situation for both SOCAR and Turkey. It will not only increase our share in Turkey's petrochemical markets, but it will also help to reduce Turkey's imports of these products, hence reducing the foreign trade deficit. All of our projects in Turkey are planned with this goal in mind," said SOCAR Turkey CEO Zaur Gahramanov.
"This potential major new direct investment would be our first equity investment in petrochemicals in Turkey, a country where BP has now been present for over 100 years.Turkey operates as a bridging country between the East and West, and between producers and consumers, and its fast-growing economy offers attractive investment opportunities," said Mick Stump, president of BP Turkey.
Source: Arabian Industry
Why China's electric-car industry is leaving Detroit, Japan, and Germany in the dust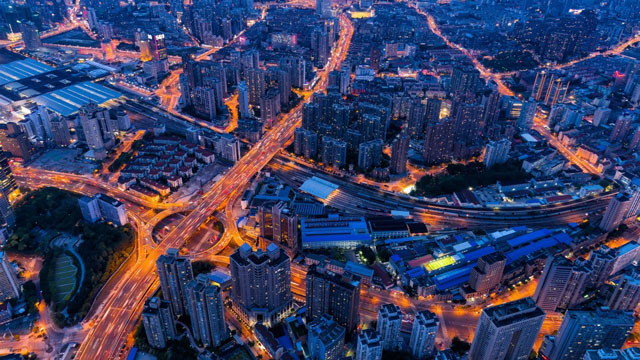 After the Cultural Revolution of the 1960s and '70s crippled China's economy, the country began to open its markets to the outside world. The aim was to bring in technological know-how from abroad that domestic firms could then assimilate. By the early '80s, foreign automakers were allowed in on the condition that they form a joint venture with a Chinese partner. These Chinese firms, by working with foreign companies, would eventually gain enough knowledge to function independently.
Or so the theory went. Chinese-produced cars subsequently flooded the market, but they were largely cheap copycats—they looked like foreign-made cars, but the engines weren't as good. Carmakers in the US and Europe had too much of a head start for China to catch up.
The only way to outdo the rest of the world, then, was to bet on a whole new technology. Enter electric vehicles, which require less mechanical complexity and rely more on electronic prowess. A Chevrolet Bolt's electric engine contains just 24 moving segments, according to a teardown performed by consulting company UBS. In comparison, a Volkswagen Golf's combustion engine has 149. Meanwhile, China already had an electronic manufacturing supply chain in place from its years of producing the world's batteries, phones, and gadgets.
Now the Chinese government is embracing the shift from combustion to electric engines in a way no other country can match. It's made electric vehicles one of the 10 pillars of Made in China 2025—a state-led plan for the country to become a global leader in high-tech industries—and enacted policies to generate demand. Since 2013, almost 500 electric-vehicle companies have launched in China to meet the government's mandate and to cash in on subsidies designed to generate supply.
For consumers, the government promised one of the most difficult things to obtain in China's metropolises: a license plate. To combat pollution, the number of license plates issued each year is strictly limited. Beijing awards them through a lottery, but the chance of getting one in any given year is now 0.2%. Shanghai sells them at an auction with prices of over $14,000, more than the price of many domestically produced cars. Electric-vehicle plates are not only faster to get; they're free.
"The world needs a different way of powering the economy," says Bill Russo, CEO of the Shanghai consultancy firm Automobility. "China recognizes it can't be dependent on fossil fuels—it will choke on its own fumes."
China's breakneck speed has changed the strategies of traditional auto manufacturers. Many are now basing their global strategy for electrification on China's industrial policy, but the momentum behind China's companies is hard to match—and that's a threat to the bottom line for Ford, General Motors, and European carmakers.
"The industry has always been dominated by Japan, the Europeans, and the US," says Jonas Nahm, an assistant professor of energy, resources, and environment at the Johns Hopkins School of Advanced International Studies. "The center of gravity is shifting very rapidly. I don't think anyone has figured out a good response to it yet."
Source: MIT Technology Review
The UK energy transition needs to be fairer and faster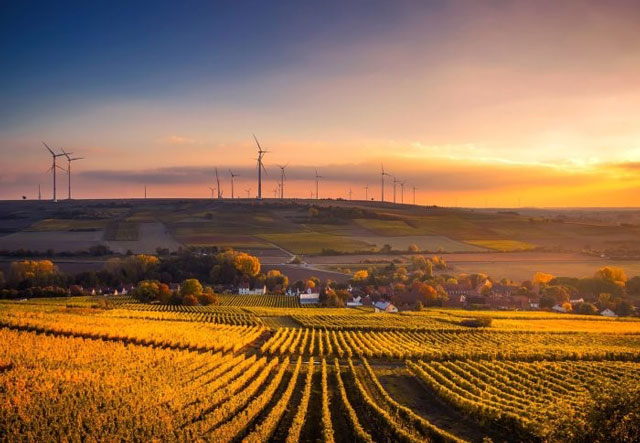 The government risks alienating the public if costs and benefits of the energy transition are not shared more equally.
In its 2018 Annual Review of Energy Policy, published on December 18, the UK Energy Research Centre praises government for progress so far in reducing greenhouse gas emissions. But action needs to go further and faster – for example, by demonstrating low carbon heat options at scale and accelerating the shift to cleaner vehicles.
At the same time, government needs to do much more to ensure that the UK energy transition is fairer. Despite the recent introduction of the energy price cap - protecting those who do not shop around for the cheapest energy tariffs - the energy sector still has a long way to go to ensure that the costs and benefits of a changing energy system are shared equitably. Particularly urgent action is needed to help vulnerable groups, including households in fuel poverty.
Improvements in energy efficiency and a reduction in energy use decreased household energy bills between 2008 and 2016, counteracting the effect of rising prices. However, UKERC research has also shown that schemes aimed at alleviating fuel poverty for low-income families and disabled people are insufficient. A better, more targeted approach for low-income households is required.
Most emission reduction schemes are funded through levies on domestic energy bills, disproportionately affecting those most vulnerable to rising prices. This is regressive as the poorest homes are in effect, self-funding schemes designed to help them. Energy efficiency investment for vulnerable households should instead be funded via general taxation.
To ensure widespread support for the energy transition, there also needs to be a greater focus on transparency and accountability. If left unaddressed, the current lack of transparency around costs and decision-making could undermine public support for the energy transition. The UK government should consider setting up a process similar to Scotland's Just Transitions Commission to achieve this.
Professor Jim Watson, UKERC Director said:
"As we reach the end of 2018, the scorecard for UK energy policy is mixed. Optimists can point to rapid emissions reductions, cost falls in renewables and the centrality of clean energy within the Industrial Strategy.
Whilst this progress is welcome, the future is much more uncertain, with many looming policy gaps. Our research also shows just how important it is to pay attention to social and economic justice as these gaps are addressed.
Government needs a much more coherent strategy about the distribution of costs and benefits across different income groups and regions. The Scottish government's new Just Transitions Commission offers one way to consider all these questions in an integrated way."
Dr Christina Demski, UKERC Researcher, Cardiff University said:
"Issues of fairness and equitability are starting to be considered in energy policy, but there is a long way to go before they are addressed adequately.
We also need to find fairer and more socially acceptable ways to distribute costs arising from low-carbon energy system change."
Dr Carolyn Snell, UKERC researcher, University of York said:
"We must ensure that households most vulnerable to fuel poverty are not left behind during changes to energy policy, people must be at the centre of fuel poverty policy. A fair energy transition will help to address these issues"
All summary recommendations:
To ensure widespread support for the energy transition, there needs to be more focus on equity and justice. The UK government should consider setting up a process similar to Scotland's Just Transitions Commission to achieve this.
A better, more targeted approach to the energy needs of low-income households is required. Energy efficiency investment for these households should be funded via general taxation.
We repeat our call for a heat and energy efficiency White Paper, and recommend that the Industrial Strategy mission to reduce building energy use is extended to existing buildings.
Urgent large-scale trials of heat decarbonisation using hydrogen are required to understand whether it could be technically, economically and socially viable.
A dashboard of indicators is needed to monitor gas security during the energy transition. The current one dimensional approach is not sufficient.
Future electricity policy should build on the Electricity Market Reform policies that have worked well, and adapt them in the light of changes in technologies and costs.
Changes in incentives for 'black start' and other ancillary services are necessary to ensure that the electricity system remains resilient as it changes.
The target for phasing out conventionally fuelled vehicles is inadequate and does not fit with our emissions targets. The 2040 date should be brought forward and linked to accelerated investment in networks and charging.
The Industrial Strategy needs to be strongly linked to market creation policies for low carbon technologies. Carbon capture and storage is in particular need of such policies to progress beyond its current holding pattern.
Continued vigilance is required to mitigate any negative impacts of Brexit, particularly those that could affect integration with European energy markets.
Source: UKERC
Energy Storage and Renewable Energy As a System: The Energy Future As a Business Model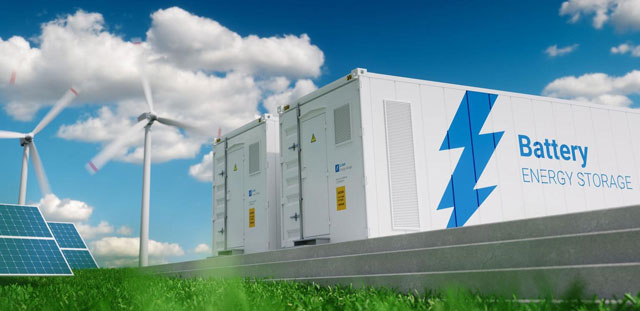 Across the world, large energy storage installations are increasingly being coupled with systems for using renewable energies – be they virtual power plants, photovoltaic (PV) power plants, or wind farms. The potential offered by these large-scale storage systems is particularly clear when they are used in conjunction with PV, because solar power is becoming ever more affordable thanks to the continuously falling prices of PV systems. And these savings create more scope for investing in supplementary storage solutions. The combination of PV and storage systems provides important services for supply security and grid stability for the energy world of the future. It also creates tangible financial incentives, since large energy storage systems in particular afford operators the opportunity to earn additional income, for instance from arbitrages, frequency services and – in countries like the UK – capacity market earnings. Trailblazing investors, project designers and technology suppliers from all over the world will convene at ees Europe, the continent's largest and most-visited exhibition for batteries and energy storage systems, in Munich from May 15–17, 2019.
Solar and wind energy are becoming increasingly affordable and are already displacing fossil fuels. Many current studies confirm the rapid pace of development, including the levelized cost of energy (LCOE) update provided just recently in November by Bloomberg NEF analysts. Every six months, this report takes a closer look at changes in electricity production costs for the most significant energy sources and battery storage systems. The results showed that photovoltaics and wind power became the most cost-efficient energy sources in all of the world's leading economies except Japan in the second half of 2018. Even in China and India – where coal had long remained the cheapest source of energy – photovoltaics and wind power have now pulled ahead. Internationally, more than 120 billion US dollars are now being invested in photovoltaics each year. Ambitious expansion goals are fueling further progress in many countries throughout the world. Spain, for example, has set the goal of switching over to 100 percent renewables by 2050.
Falling prices are driving markets
The upward trend in photovoltaics is accompanied by a growing energy storage market, which is also benefiting from falling prices. By 2040, according to current figures from Bloomberg NEF's annual forecast, the decrease in battery storage costs will prompt investments of 620 billion US dollars and the worldwide energy storage market will grow to a total of 942 gigawatts (GW), or 2,857 gigawatt hours (GWh). Based on the price reductions of the last few years, the report predicts that the price of large-scale storage systems will sink by a further 52 percent by 2030.
For industry and investors, this will bring about profitable options for combining PV power plants and storage systems. Numerous projects throughout the world serve as proof that these options pay off, as do current investment products such as fixed-rate bonds, which generate revenue enabling the implementation of large-scale storage systems.
Large-scale storage systems combined with PV power plants – exciting projects worldwide
Particularly topical is the first municipal battery storage project in the UK, which was recently introduced in the county of West Sussex. German battery storage system manufacturer Tesvolt supplied the Westhampnett solar farm with a 4.4 MW high-voltage storage system, which will work together with the 7.4 MW solar farm to stabilize the power grid. The project is run by the county council, which has drawn up a business model based on grid services – since, according to the decision-makers, the system is one of the first in the UK built with a battery storage system and without state funding.
The Italian electricity supplier Edison has also recently introduced a 500 kW/822 kWh storage solution coupled with photovoltaic technology in the south of the country. Edison says that the project will help to extend the availability of solar power over time and at the same time check if other grid services are suited for such storage systems. Also this year, Chinese battery and automobile manufacturer BYD put its first energy storage project into operation on the Polish market. The 1.26 MW/2.52 MWh lithium-ion system is coupled with a 1 MW PV power plant and serves to balance out peak loads and stabilize the grid.
Industry meeting point at ees Europe in Munich
These examples show how large-scale storage systems can fulfill important functions in conjunction with PV power plants, and how they can already generate a profit in the process. The most important large-scale storage suppliers will convene at ees Europe in Munich from May 15–17, 2019, including Tesla, BYD, Tesvolt, LG Chem, Samsung SDI, HOPPECKE, Alfen, Eaton, Nidec, Socomec, Saft and battery manufacturer Kokam, which, in its native country of South Korea, recently set up two lithium NMC (nickel manganese cobalt) oxide energy storage systems rated at 24 MW (9 MWh) and 16 MW (6 MWh) respectively to provide frequency regulation for the national power grid. A total of 1,300 exhibitors are expected to take part in The smarter E Europe in Munich, including 450 storage system providers.
At the exhibition, companies will have the opportunity to meet with the international investors and partners they need for the implementation of ambitious power plant projects and energy storage systems. This also includes leading power plant construction companies and project developers such as Sterling and Wilson from India, German plant construction company Siemens and Finnish company Wärtsilä. The energy supplies of the future are interconnected and the systems operate across different sectors. The smarter E Europe makes sure that all industries are represented – from power generation to consumption and from solar technology to e-mobility. Power plants for the use of renewable energies as well as hybrid and combined power plants will serve as the major focal points at ees Europe and at the parallel event Intersolar Europe, the world's leading exhibition for the solar industry.
Source: Renewable Energy World
UAE giants ink deal to develop Dubai power, desalination plant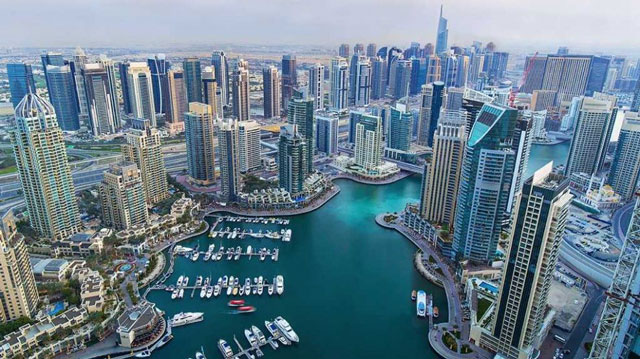 Emirates Global Aluminium (EGA), Mubadala and Dubal Holding are to sign an agreement to develop a new power block and a water desalination plant at EGA's smelter at Jebel Ali in Dubai.
The new facilities will improve the efficiency of power for EGA's aluminium smelting, reducing environmental emissions and natural gas consumption, a statement said.
Mubadala and Dubal Holding are to establish a joint venture to develop the new facilities while EGA intends to buy the facility's output for 25 years following commissioning, it added.
EGA is the largest industrial company in the UAE outside oil and gas, and is jointly owned by Mubadala and Dubai Holding.
The joint venture will install a combined cycle power facility at EGA's Jebel Ali site capable of generating over 600 megawatts of electricity.
The shareholders of the joint venture have signed an agreement with Siemens to install the UAE's first combined cycle H-class gas turbine, a leading technology in efficient power generation.
Saeed Mohammed Al Tayer, vice chairman of Dubal Holding and vice chairman of EGA, said: "Our project includes a combined cycle power facility and a reverse osmosis water desalination plant that support the objectives of the UAE Vision 2021 and the UAE Centennial 2071."
Abdulnasser Bin Kalban, CEO of Dubal Holding, added: "This builds on our investment partnership with Mubadala, following the successful establishment of EGA itself. This project is expected to improve the overall power efficiency at Jebel Ali smelter and I look forward to further improvements in the near future."
Once the project is complete, five older, smaller and less efficient turbines at EGA Jebel Ali will be put on standby for use only in emergencies.
The new, more efficient power facility is expected to reduce greenhouse gas emissions from EGA's power generation at Jebel Ali by some 10 percent.
EGA requires electricity for aluminium smelting and other industrial operations. EGA runs captive power plants at its sites in Jebel Ali and Al Taweelah with a current combined generating capacity of 5,450 megawatts, making the company the largest power producer in the UAE after DEWA and ADWEA.
Source: Arabian Business
REPORT OF THE WEEK
IRENA's Year in Review 2018
A run-through of highlights from IRENA during the year
The last 12 months have been a remarkable time for renewable energy. The cost of renewables has continued to plummet, capacity expansion has accelerated, and a sense of urgency to address climate change through a renewable-powered global energy transition, has grown.
With the end of the year upon us, IRENA has taken a moment to reflect on the year's activities and accomplishments. We've done this in the past, and in case you're interested here's what happened in 2017.
Please click here to read the full report.