Turkey Aims to Increase Share of Renewables: Minister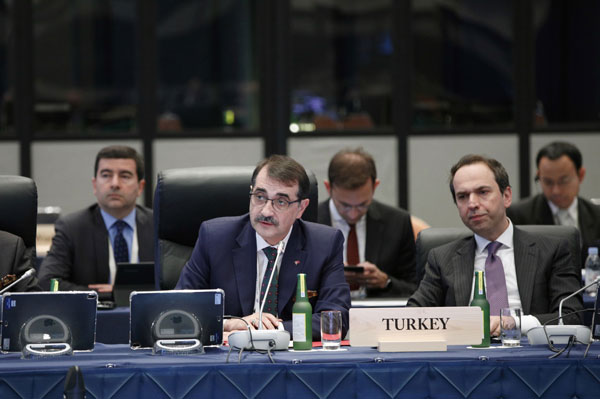 Turkey aims to increase the share of the domestic and renewable sources up to two-thirds of the country's electricity production by 2023, said Fatih Donmez, Turkey's Energy and Natural Resources Minister on Sunday at a G20 meeting in Japan.
"Last month another wind auction for 1 gigawatt capacity was also successfully completed," Donmez said during a session at the G20 Ministerial Meeting on Energy Transitions and Global Environment for Sustainable Growth in 2019 in Nagano.
"For a sustainable future we have to benefit from energy efficiency, as well as renewable energy, fossil fuels and nuclear power technologies," Donmez noted.
He said that in 2017, Turkey became the member of "1 GW Club" of geothermal.
The Minister noted that Turkey's goal is to exceed 2 GW by 2023.
"Our recently announced National Energy Efficiency Action Plan sets out actions to implement a reduction of 14% of primary energy consumption by 2023, via a strategy which includes around $11 billion of planned investment," Donmez said.
He stressed that Turkey also aims to benefit from vast coal reserves while paying utmost importance to the implementation of clean coal technologies.
"We attach great importance to the application of clean coal technologies. Excluding coal also blocks the research and development and improvements to be made in this area," Donmez said.
Donmez said that Turkey has strong will to include nuclear energy to primary energy supply starting from 2023 by commissioning the first unit of Akkuyu Nuclear Power Plant.
Russia's Rosatom is constructing Turkey's first nuclear plant in the southern province of Mersin. The plant, comprising four units, each with a capacity of 1,200 megawatts, will meet about 10 percent of Turkey's electricity needs.
"I would like to emphasize one more time that base load power sources such as nuclear and fossil fuels are necessary to increase utilization of intermittent renewable energy," Donmez said and added, "Turkey values flexibility in natural gas as well. By building world-class LNG terminals including FSRUs, transmission and gas storage infrastructure investments, Turkey can provide flexibility to its region as well."
He said that just like energy resources, energy innovation also needs diversification.
"We have started a startup initiative to integrate artificial intelligence, IoT, cyber security and electric mobility faster into our energy portfolio. We are also taking important steps regarding the exploration of sources. Our hydrocarbon exploration and drilling activities have been continuing. We aim to bring our resources into the economy with the help of the private sector on a win-win basis," he said.
Energy and environment ministers of the G20 countries on Saturday gathered in Japan for the first time in the group's history.
The meeting is set to conclude later Sunday.
The G20's membership is made up of 19 individual countries plus the European Union. The group's economies account for around 90% of gross world product and 80% of world trade.
Source: AA
Turkey Global Leader in Adding New Geothermal Capacity in 2018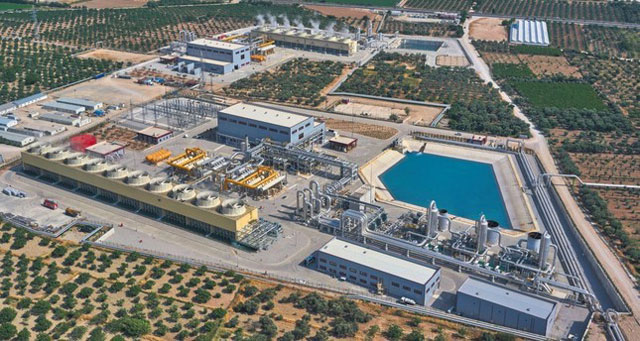 Having completed several geothermal projects in 2018, Turkey led in commissioning new geothermal capacity in the world throughout the year, according to a report by Renewable Energy Policy Network for the 21st Century Report (REN21), a think tank and global multi-stakeholder network focused on renewable energy policy. Turkey managed to increase its geothermal capacity by 21 percent last year, REN21's Renewables 2019 Global Status Report showed.
Namely, Turkey added 219 megawatts (MW) of new geothermal capacity in 2018, raising its total capacity to 1.3 gigawatts (GW), according to the report, which cited data from Turkey's Electrical Transmission Company (TEİAŞ).
Overall, an estimated 0.5 GW of new geothermal power generating capacity came online last year, bringing the global total to around 13.3 GW, the report said.
"Turkey and Indonesia remained the leaders for new installations and accounted for about two-thirds of the new capacity installed," the report read. Other countries that added capacity in 2018 were the U.S., Iceland, New Zealand, Croatia, the Philippines and Kenya.
Harnessed for the generation of electricity and for various thermal applications, including space heating and industrial heat input, the total geothermal energy output in 2018 was estimated at 639 petajoules, with around half of this in the form of electricity (89.3 terawatt hours), according to the report.
"At the year's end, the countries with the largest amounts of geothermal power generating capacity were the U.S., Indonesia, the Philippines, Turkey, New Zealand, Mexico, Italy, Iceland, Kenya and Japan," it said.
Having built up more than 1 GW of capability in only six years, between 2013 and 2018, Turkey ranks fourth globally for cumulative geothermal power capacity, after the U.S. (2.54 GW), which brought online at least 58 MW (net) in three facilities last year, Indonesia (1.95 GW), with 140 MW of this being added last year and the Philippines (1.93 GW), which has seen little developments in recent years and is said to have completed its first new geothermal capacity since 2014, bringing online 12 MW in 2018.
According to TEİAŞ, Turkey had 40 geothermal sites in 2017 and raised this figure to 43 units as of Sept. 30 last year. The main geothermal steam resources of Turkey are being located in the central Aegean region, stretching inland from İzmir to Uşak, the north Aegean region around Balıkesir, as well as further sites in north central Anatolia around the capital Ankara and smaller reserves in the east and north-east of the country.
Zorlu Energy, one of Turkey's leading energy firms, commissioned the 65.5-MW second unit of its $320 million Kızıldere 3 plant on the border between the southwestern provinces of Aydın and Denizli and was the largest single unit completed last year. With the second unit, the plant has an installed capacity of 165 MW — making it the largest in Turkey.
Zorlu reportedly now operates a portfolio of five geothermal plants, totaling 329.9 MW. It is estimated to hold some 31 percent of Turkey's total geothermal capacity across the country, making it the largest geothermal operator in the country by a considerable margin.
"Other projects completed during the year include the 19.4 MW Baklacı, the 13.8 MW Buharkent, the 25 MW 3S Kale and the 32 MW Pamukören fourth unit. A final addition, the 30 MW Alaşehir third unit, joined Turkey's fleet in November," REN21's Renewables 2019 Global Status Report said.
In addition, the report emphasized that the majority of the country's geothermal power plants use binary-cycle technology, as do all of the country's plants under construction.
"Conversely, most existing geothermal plants around the world use flash- or dry-steam technologies, which are suitable for high-temperature resources. Globally, binary-cycle technology has been the fastest-growing technology in recent years, due in part to the rising use of relatively low-temperature resources," it said.
Overall, global investment in the geothermal sector in 2018 amounted to an estimated $2.2 billion, according to the report, which noted this represents a very small portion (less than 1 percent) of all renewable energy investment for the year, excluding hydropower projects.
Being an energy importing country, Turkey has significantly increased investments in domestic and renewable resources over the years to decrease dependency on external resources for power generation and achieve the goal to raise the share of local and renewable resources in power generation.
Energy and Natural Resources Minister Fatih Dönmez said earlier in March that the country aims to produce 60 percent to 70 percent of its electricity from renewable and local resources.
In the first quarter of this year, Turkey managed to increase its electricity production from local and renewable sources to 62 percent compared to 48.5 percent during the same period of last year, according to official data. It produced 74.35 billion kilowatt-hours (kWh) of electricity in the first three months, of which 46.11 billion came from local and renewable energy resources.
The biggest share of these resources came from hydroelectric power plants at 30.41 percent. In total production, local coal realized 16.22 percent, wind produced 8.33 percent while 3.04 percent came from geothermal sources.
Imported resources amounted to a 38 percent share in Turkey's electricity production in the first quarter. Turkey's total installed local and renewables-based power capacity increased to 53.47 gigawatts from 50.31 gigawatts. The statistics show that the increase in domestic production provided $513 million to close the account deficit.
Lastly, Energy and Natural Resources Minister Dönmez said on the sidelines of G20 Ministerial Meeting on Energy Transitions and Global Environment for Sustainable Growth in 2019 in Nagano, Japan over the weekend that Turkey is looking to raise the share of domestic, renewable sources up to two-thirds of the country's electricity production by 2023.
Dönmez said in 2017, Turkey became a member of the geothermal "1GW Club" and plans to exceed 2 GW by 2023.
Source: Daily Sabah
World First: Siemens Gamesa Begins Operation of Its Innovative Electrothermal Energy Storage System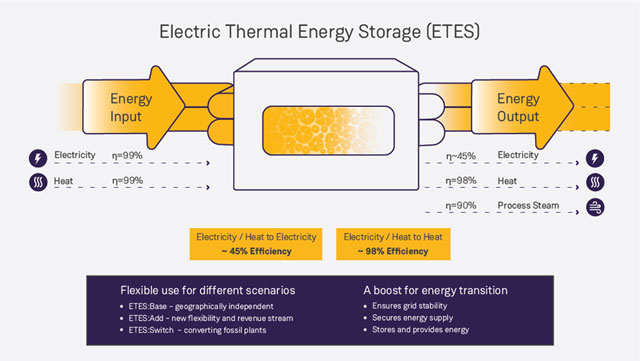 In a world first, Siemens Gamesa Renewable Energy (SGRE) has today begun operation of its electric thermal energy storage system (ETES).
During the opening ceremony, Energy State Secretary Andreas Feicht, Hamburg's First Mayor Peter Tschentscher, Siemens Gamesa CEO Markus Tacke and project partners Hamburg Energie GmbH and Hamburg University of Technology (TUHH) welcomed the achievement of this milestone. The innovative storage technology makes it possible to store large quantities of energy cost-effectively and thus decouple electricity generation and use.
The heat storage facility, which was ceremonially opened today in Hamburg-Altenwerder, contains around 1,000 tonnes of volcanic rock as an energy storage medium.
It is fed with electrical energy converted into hot air by means of a resistance heater and a blower that heats the rock to 750°C. When demand peaks, ETES uses a steam turbine for the re-electrification of the stored energy. The ETES pilot plant can thus store up to 130 MWh of thermal energy for a week. In addition, the storage capacity of the system remains constant throughout the charging cycles.
The aim of the pilot plant is to deliver system evidence of the storage on the grid and to test the heat storage extensively. In a next step, Siemens Gamesa plans to use its storage technology in commercial projects and scale up the storage capacity and power.
The goal is to store energy in the range of several gigawatt hours (GWh) in the near future. One gigawatt hour is the equivalent to the daily electricity consumption of around 50,000 households.
"Decoupling generation and consumption of fluctuating renewable energy via storage is an essential contribution to implementing the energy system transformation. We therefore need cost-effective, efficient and scalable energy storage systems," demands Andreas Feicht, State Secretary at the Federal Ministry of Economics and Energy.
"With the commissioning of our ETES pilot plant, we have reached an important milestone on the way to introducing high-performance energy storage systems. Our technology makes it possible to store electricity for many thousands of households at low cost. We are thus presenting an elementary building block for the further expansion of renewable energy and the success of the energy transition," says Markus Tacke, CEO of Siemens Gamesa Renewable Energy. The technology reduces costs for larger storage capacities to a fraction of the usual level for battery storage.
The Institute for Engineering Thermodynamics at Hamburg University of Technology and the local utility company Hamburg Energie are partners in the innovative Future Energy Solutions project, which is funded by the German Federal Ministry of Economics and Energy within the "6. Energieforschungsprogramm" research programme.
TU Hamburg carries out research into the thermodynamic fundamentals of the solid bulk technology used.
By using standard components, it is possible to convert decommissioned conventional power plants into green storage facilities (second-life option).
Hamburg Energie is responsible for marketing the stored energy on the electricity market. The energy provider is developing highly flexible digital control system platforms for virtual power plants. Connected to such an IT platform, ETES can optimally store renewable energy at maximum yield.
Source: Siemens Gamesa
11 Million People Employed in Renewable Energy Worldwide in 2018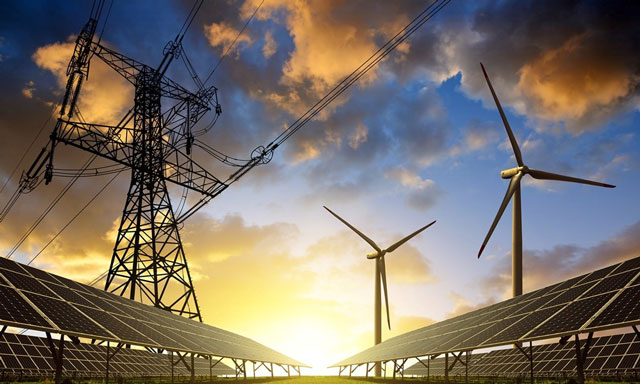 Eleven million people were employed in renewable energy worldwide in 2018 according to the latest analysis by the International Renewable Energy Agency (IRENA). This compares with 10.3 million in 2017 .
As more and more countries manufacture, trade and install renewable energy technologies, the latest Renewable Energy and Jobs – Annual Review finds that renewables jobs grew to their highest level despite slower growth in key renewable energy markets including China.
The diversification of the renewable energy supply chain is changing the sector's geographic footprint. Until now, renewable energy industries have remained relatively concentrated in a handful of major markets, such as China, the United States and the European Union.
Increasingly, however, East and Southeast Asian countries have emerged alongside China as key exporters of solar photovoltaic (PV) panels. Countries including Malaysia, Thailand and Viet Nam were responsible for a greater share of growth in renewables jobs last year, which allowed Asia to maintain a 60 per cent share of renewable energy jobs worldwide.
"Beyond climate goals, governments are prioritising renewables as a driver of low-carbon economic growth in recognition of the numerous employment opportunities created by the transition to renewables," said Francesco La Camera, Director-General of IRENA.
"Renewables deliver on all main pillars of sustainable development – environmental, economic and social. As the global energy transformation gains momentum, this employment dimension reinforces the social aspect of sustainable development and provides yet another reason for countries to commit to renewables." Solar photovoltaic (PV) and wind remain the most dynamic of all renewable energy industries.
Accounting for one-third of the total renewable energy workflow, solar PV retains the top spot in 2018, ahead of liquid biofuels, hydropower, and wind power. Geographically, Asia hosts over three million PV jobs, nearly nine-tenths of the global total. Most of the wind industry's activity still occurs on land and is responsible for the bulk of the sector's 1.2 million jobs.
China alone accounts for 44 per cent of global wind employment, followed by Germany and the United States. Offshore wind could be an especially attractive option for leveraging domestic capacity and exploiting synergies with the oil and gas industry.
Source: IRENA
Global Demand-Side Management A $63.6 Billion Market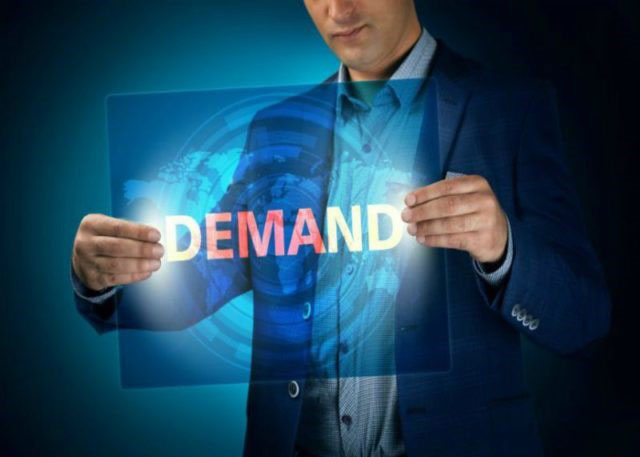 The global energy demand-side management market and new business models will generate up to $63.6 billion in spending through 2028, according to Navigant Research.
The research firm forecast growth in demand-side management to occur in all regions, with deeper savings in mature markets and new market share in regions with less programme penetration.
Driving the increase in demand-side management programmes is the growing adoption of demand response and energy efficiency measures to meet changing regulatory requirements on energy generation and climate change.
New distributed energy resource technologies and changing customer expectations have created opportunities for growth in the demand-side management market.
Jessie Mehrohoff, research analyst with Navigant , said: "Integrated DSM will also generate operational and capital savings for program providers in more mature markets."
More efficient, intelligent hardware and programme management software are expected to offer streams of data that can be used to optimise both commercial and industrial (C&I) and residential energy ecosystems. Edge computing and data analytics is also likely to speed rates of actionable insights for DSM program providers.
Source: Smart Energy International
Commission Calls on Member States to Step Up Ambition in Plans to Implement Paris Agreement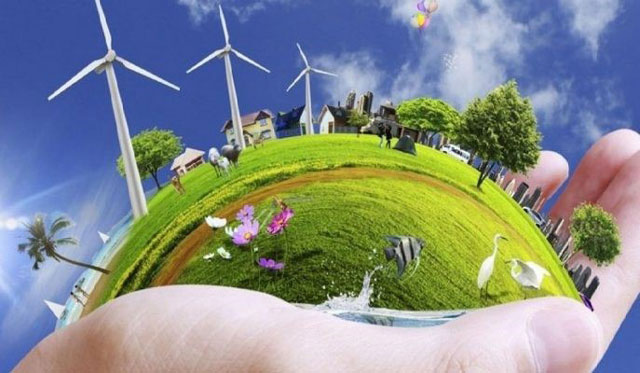 The European Commission's assessment finds that the national plans already represent significant efforts but points to several areas where there is room for improvement, notably as concerns targeted and individualised policies to ensure the delivery of the 2030 targets and to stay on the path towards climate neutrality in the longer term.
The European Union is the first major economy to put in place a legally binding framework to deliver on its pledges under the Paris Agreement and this is the first time that Member States have prepared draft integrated national energy and climate plans (NECPs).
Yet, with plans currently falling short both in terms of renewables and energy efficiency contributions, reaching the EU's overall climate and energy goals will require a collective step up of ambition.
Vice-President for the Energy Union, Maros Sefcovic said: "These first national energy and climate plans bring the Energy Union to the national level: like the EU, Member States all present policies for the climate and energy transition in an integrated way and with a ten-year perspective. Member States have all produced impressive drafts in a relatively short time, but no draft is perfect. Final plans are due by the end of the year and our recommendations show where more effort is needed: for example, stronger ambition, more policy detail, better specified investment needs, or more work on social fairness. Clarity and predictability are a real competitive advantage for the European energy and climate policy. So let's make the best of this opportunity and give the national plans a solid final push."
Commissioner for Climate Action and Energy, Miguel Arias Canete said: "Last November we proposed that the European Union should become climate neutral by 2050. We have shown and led the way forward. It is good to see that a growing number of Member States are following our lead and working towards that goal. Having evaluated Member States draft national plans, I am positive about the significant efforts that have been made. However, in the final plans even more ambition is needed to set the EU on the right track in fighting climatechange and modernising our economy. I invite the Council to open a debate around the main priorities identified by the Commission and help ensure that the final plans contain an adequate level of ambition."
The EU is committed to delivering on its commitments to reduce greenhouse gas emissions and to delivering secure, affordable and sustainable energy for its citizens. We have created a unique system of energy and climate governance where both the Union and its Member States plan together and deliver collectively on our 2030 targets and on a socially-fair and cost-effective transition to a climate neutral economy by 2050.
In its analysis of the draft national plans, the Commission looked at their aggregated contribution to meeting the EU's Energy Union objectives and 2030 targets. As they stand, the draft NECPs fall short both in terms of renewables and energy efficiency contributions. For renewables, the gap could be as big as 1.6 percentage points. For energy efficiency, the gap can be as big as 6.2 percentage points (if considering primary energy consumption) or 6 percentage points (if considering final energy consumption).
The good news is that Member States now have 6 months to raise their national level of ambition. The Commission's recommendations and detailed assessments aim to help Member States finalise their plans by the end of 2019, and to implement them effectively in the years to come. The national plans should provide clarity and predictability for businesses and the financial sector to stimulate necessary private investments. The plans will also facilitate Member States' programming of funding from the next multi-annual financial framework 2021-2027.
Source:  European Commission
REPORT OF THE WEEK
BP Energy Outlook 2019 Edition
The demand for energy is set to increase significantly driven by increases in prosperity in the developing world. One of the biggest challenges of our time is a dual one: the need to meet rising energy demand while at the same time reducing carbon emissions.
Please click here to read the full report.