Erdogan Announces Turkey's 100-Day Energy Plan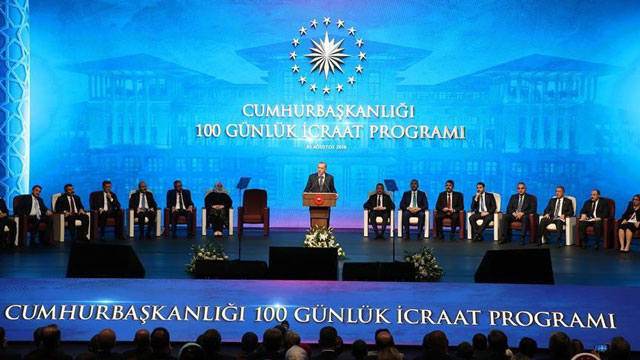 Turkish President Recep Tayyip Erdogan on Friday announced that the country's plans to develop the domestic energy sector would include the purchase of a second drilling vessel to conduct offshore exploration of hydrocarbons in waters surrounding the country.
Erdogan, speaking at a press conference in Ankara, said that efforts would be tripled to research, explore and exploit potential domestic natural resources. The ministry will also conduct deep exploration activities and deep drilling in the Mediterranean with the new drilling vessel, as a part of the effort.
As part of the country's 100-day action plan, he said that private corporations would run public non-operational coalfields located in the Aegean towns of Soma and Tuncbilek. The plan also involves renewables through a series of tenders for solar power plants with a total capacity of 3 gigawatts (GW) with an anticipated investment of nearly $4.8 billion.
In addition, he announced that another tender would be launched to build a thermal power station in Eskisehir's Alpu town in central Turkey with an installed capacity of 1 GW.
In reference to the country's nuclear power ambitions, he said the construction of Turkey's first nuclear plant, the Akkuyu Nuclear Power Plant is on schedule and that the second would be built in Sinop in the Black Sea province. He added that plans also comprise the development of a third nuclear power plant in the Thrace region of Turkey.
Russian State Nuclear Energy Agency, Rosatom will build the first plant comprising four units, each of which has a capacity of 1,200 megawatts. It will produce 35 billion kilowatts of electricity at full capacity to meet about 10 percent of Turkey's electricity needs. The Akkuyu NPP has an operational date set for the first reactor by 2023, while the plant is expected to be up and running at full capacity by 2025.
Natural Gas Projects
He noted that Turkey has already launched the Trans Anatolian Natural Gas Pipeline (TANAP) project in 2018. The 1,850-kilometer-long TANAP was officially inaugurated on May 29 during a ceremony held in Baku with the participation of Azerbaijan's president.
TANAP, with around $8 billion of investment, will deliver 6 billion cubic meters of Azeri gas to Turkey and 10 billion cubic meters to Europe per year. The European part of the project is expected to become operational in 2020. Erdogan said that works are ongoing for the TurkStream natural gas pipeline project as well as other projects in the region.
The TurkStream project will carry 31.5 billion cubic meters of natural gas to Turkey from Russia. The first line of the project will meet Turkey's energy demands and the second line with a capacity of 15.75 billion cubic meters will transfer gas to Europe via Turkey.
Erdogan stressed that access to natural gas use would now reach two more cities within 100 days with the gas network extending to Sirnak and Artvin cities, which will now provide gas to 80 cities in total. "We are also receiving offers to increase Turkey's Tuz Golu (Salt Lake) underground gas storage facility's capacity to 600 million cubic meters from 450 million cubic meters," he said.
Source: AA
Construction permits for Akkuyu NPP second reactor on the way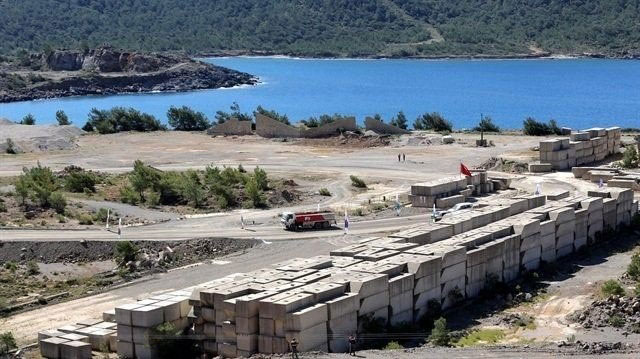 Preparations for the construction of a second reactor at the Akkuyu Nuclear Power Plant (NPP), Turkey's first NPP, have been completed. Accordingly, Akkuyu Nükleer A.Ş. will apply to the Turkish Atomic Energy Authority (TAEK) to receive a construction permit for the second 200-megawatt (MW) reactor this week. TAEK has already issued construction licenses for the first reactor at Akkuyu NPP, where work began on April 3, 2018.
The licenses were issued only after fulfilling the general and special conditions, determined in accordance with the legislation on nuclear facilities. Now the same procedures will apply for the second reactor, but this time the process will be handled faster because certain stages have already been talked over. Thus, separate construction permit licenses will be issued later for the other two reactors. After the commissioning of the first reactor in 2023, one reactor is planned to be introduced every year until 2026.
The construction of Turkey's first nuclear power plant was launched on April 3 through a groundbreaking ceremony attended by President Recep Tayyip Erdoğan and his Russian counterpart Vladimir Putin.
The Akkuyu NPP holds the records for the highest investment in a single project in Turkey, with an estimated cost of $20 billion. The nuclear plant deal is part of wider energy projects with Russia, including the $12-billion TurkStream pipeline that will deliver Russian gas to Turkey and southern Europe. Russia is the top supplier of natural gas to Turkey. According to the Turkish Statistical Institute (TurkStat), Turkey spent $37.2 billion on energy imports last year alone, a 37-percent increase from 2016.
Dependent on imports for almost all of its energy, Turkey has embarked on an ambitious nuclear program, commissioning Rosatom in 2013 to build four 1,200-MW reactors at Akkuyu.
The Akkuyu NPP will reach its full capacity in 2026 with four reactors, each with an installed capacity of 1,200 MW. It will generate an average of 35 billion kilowatt-hours (kWh) of electricity annually when it reaches 4,800 MW.
Turkey's energy imports amount to roughly $55 billion annually and its energy demand is among the fastest-growing in Europe. The country wants to generate at least 10 percent of its power from nuclear energy in less than a decade to cut dependency on natural gas.
When all four units are activated, Akkuyu NPP alone will be able to provide 10 percent of Turkey's electricity needs, bringing its energy portfolio to a healthier level, which is currently largely dependent on oil, gas and coal.
Source: Daily Sabah
Turkey Hits the Button for the Country's First Off-shore Wind Farm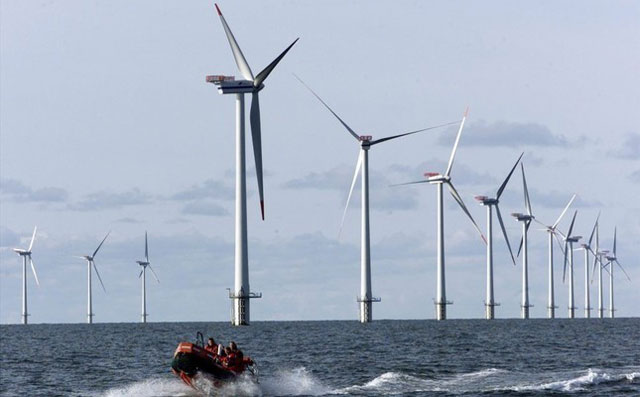 Aiming to end its dependency on imports in energy, Turkey will increase its installed capacity in renewable energy by 3 thousand megawatts. Applications for Turkey's first off-shore wind farm will be accepted on October 23. The project will be completed rapidly, in frame of the Ministry's 100 days action plan, announced by President Erdogan.
In this frame, a solar power plant with 1 thousand megawatts capacity will be installed. Additionally, tender on wind farm with 2 thousand megawatts capacity (1 thousand is on-shore, 1 thousand is off-shore) will be held in 100 days. Wind turbines are expected to be installed around Edirne, Kirklareli and Tekirdag. With the off-shore wind farm to be installed in these areas, new business and employment opportunities will be created and at the same time energy needs of the region will be met in the way. The locality condition of the off-shore wind farm will be 60 percent. The off-shore wind firm, which will go tender on October 23 will have a minimum capacity of 840 megawatts and maximum capacity of 1200 megawatt.
On the other hand, the tender of on-shore wind farm will be held in November this year.
World's Largest Solar Power Plant to be Constructed in Konya, Turkey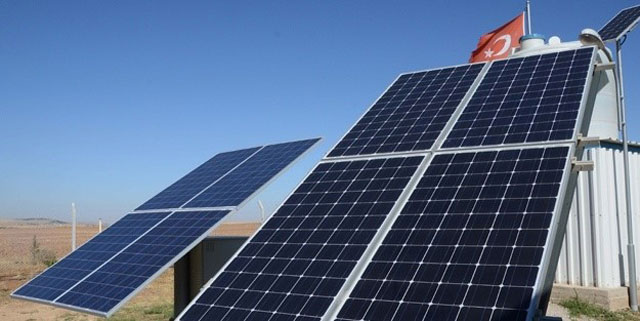 Turkey has a great potential in terms of solar power. International Solar Energy Society's Turkey Arm (GUNDER) identified the number of buildings, which are suitable for solar panel installation is around 10 million.
Konya, located in the middle of the country, is one of the sunniest cities in Turkey. Therefore, the planned solar power plant will generate 1,7 billion KWh energy and meet the needs of 600 thousand households. Having 200 days in a year, Turkey is among the luckiest countries in the world and its all regions are available for generating power from solar.
Turkey's solar power market has been active for four years and its installed capacity in solar is currently 4590 MW. Only in 2017, 2500 MW capacity was installed, meaning that when the sufficient support is given, investors show interest in investing.
European Union imports of U.S. LNG are on the rise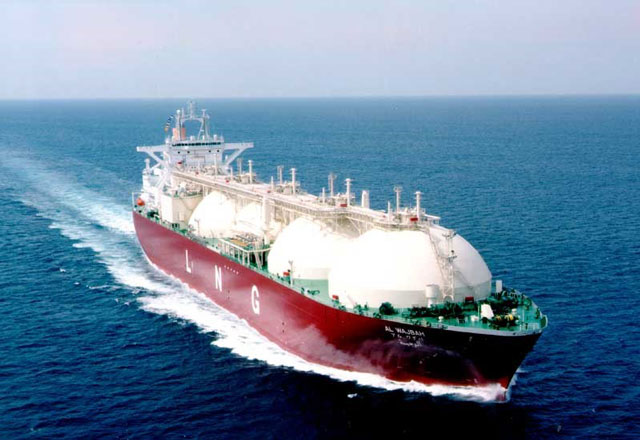 Since the arrival of the first U.S. LNG carrier in the Portuguese port of Sines April 2016 and today, EU imports of liquefied natural gas from the U.S. have increased from zero to 2.8 billion cubic meters.
In their Joint Statement of 25 July in Washington D.C., President Juncker and President Trump agreed to strengthen EU-U.S. strategic cooperation with respect to energy. In this context, the European Union would import more liquefied natural gas from the United States to diversify and render its energy supply more secure. The EU and the U.S. will therefore work to facilitate trade in liquefied natural gas.
European Commission President Jean-Claude Juncker said: "The European Union is ready to facilitate more imports of liquefied natural gas from the U.S. and this is already the case as we speak. The growing exports of U.S. liquefied natural gas, if priced competitively, could play an increasing and strategic role in EU gas supply; but the U.S. needs to play its role in doing away with red tape restrictions on liquefied natural gas exports. Both sides have much to gain by working together in the energy field."
Commissioner for Climate Action and Energy, Miguel Arias Cañete, said: "Diversification is an important element for ensuring the security of gas supply in the EU. Increasing imports of competitively priced liquefied natural gas from the U.S. is therefore to be welcomed. This is happening at a time when EU indigenous gas production is declining more rapidly than foreseen and there is an accelerated phase-out of coal power plants in the EU."
The EU has co-financed or committed to co-finance LNG infrastructure projects worth over €638 million (see list of projects in Annex 2). In addition to the existing 150 billion cubic meters of spare capacity in the EU, the EU is supporting 14 liquefied natural gas infrastructure projects, which will increase capacity by another 15 billion cubic meters by 2021, which could welcome imports of liquefied natural gas from the U.S., if the market conditions are right and prices competitive.
Currently, U.S. legislation still requires prior regulatory approval for liquefied natural gas exports to Europe. These restrictions need to be addressed and U.S. rules made easier for U.S. liquefied natural gas to be exported to the EU.
Presidents Juncker and Trump set up an Executive Working Group at their meeting in Washington, D.C. on 25 July. Since then contacts have taken place between Presidents Juncker and Trump, between EU Trade Commissioner Malmström and U.S. Trade Representative Lighthizer, and between the senior advisers of President Juncker and President Trump (Commission Secretary-General Martin Selmayr and White House Chief Economic Adviser Larry Kudlow).
It has been agreed that on 20 August the Trade Adviser of President Juncker and a senior EU trade official will travel to Washington, D.C. to meet their U.S. counterparts to continue work on implementing the Joint Statement. In this context, the EU and the U.S. are working within the framework of this Executive Working Group to increase U.S. exports of liquefied natural gas to Europe.
Source: EC
Regulator raises energy prices for vulnerable customers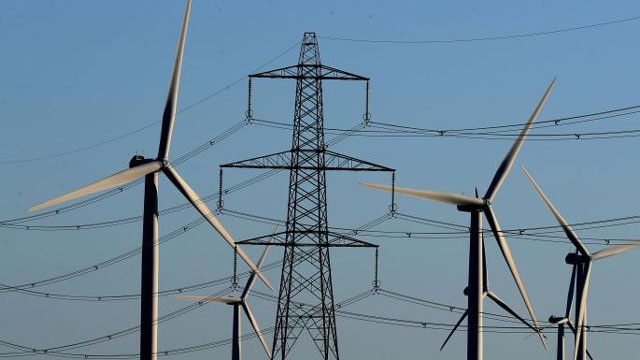 Five million households will see their energy bills rise by up to £47 a year after the regulator increased its price cap for vulnerable customers.
Ofgem blamed rising wholesale energy costs driven by higher oil prices for the "unfortunate" rise, which follows another increase of £57 a year only six months ago.
Most suppliers are expected to increase their tariffs to the maximum permitted level, which would be £1,136 a year for a typical household from October.
The decision is awkward for the government, which has ordered Ofgem to introduce a similar cap for a further 11 million households on standard tariffs with a promise that it should prevent "sudden and unexpected and significant hikes in prices".
Dermot Nolan, Ofgem's chief executive, said that households were still better off than they would have been without the cap as they were no longer being overcharged. They could be "confident that this increase is justified and that their energy bill reflects the real cost of supplying gas and electricity", he said.
Ofgem first introduced its cap in April last year for four million households with pre-payment meters after the Competition and Markets Authority concluded that they were more likely to be vulnerable and were getting especially bad deals. It has since extended it to cover a further million households that are identified as vulnerable through eligibility for the "warm home" discount scheme.
The wider cap on all standard tariffs, which are typically the most expensive in the market, is due to be put in place by the end of this year.
Ofgem updates the level of its cap every six months to reflect the costs faced by suppliers.
The regulator said that the rise was "due to higher wholesale gas and electricity costs since the level was last updated in February". It said that the rise was primarily due to higher global oil prices, which have increased to about $75 a barrel from $50 a barrel a year ago.
"As the price of the gas Britain imports from Norway and the rest of Europe is linked to the oil price, this has pushed up the price of gas which heats our homes and is also used by gas-fired power stations to provide around 40 per cent of our electricity," it said. "In addition to this there have been increases in the cost of carbon trading, which again has made the gas and coal we use more expensive."
The increase will fuel speculation over whether British Gas, Britain's biggest supplier, will now raise prices for millions of households on its standard tariff for a second time this year before the wider cap comes in. It hinted at a possible increase last week.
British Gas currently charges £1,161 a year, only £25 a year more than the vulnerable customers cap. Analysts expect the wider cap to be set at a similar level to the existing cap. Unless British Gas raises prices again before the wider cap comes in it is therefore unlikely difference between its prices and the cap will be anything like the £100-a-year savings that Theresa May has suggested.
The other five large suppliers are charging an average of £1,213 a year, £77 a year higher than the new level of the vulnerable customers cap.
Rik Smith, of price comparison website Uswitch, said: "This is a stark reminder that even when there is a cap in place, prices can still rise. The only way prepayment customers can truly protect themselves is to switch to a cheaper deal or fix their tariff for additional security."
Although major suppliers were likely to increase prices to the maximum level, cheaper deals were still available, he said. "The cheapest prepayment tariff is currently £159 lower than what the new cap will cost from October."
Source: The Times
Oil giant Shell leads investment in startup with 'Electric Cars for Everyone' goal for charging tech
Shell, the major British–Dutch multinational oil and gas company, has been leading several efforts having to do electric cars as it sees the auto industry transition to electric propulsion affecting its business.
Now the oil giant Shell is leading an investment in a startup with the goal to make 'Electric Cars for Everyone' with a new charging technology.
Shell's VC arm Shell Ventures confirmed that it is leading a $31 million Series A round of financing in Ample, which describes itself as "a technology company focused on solving the energy delivery challenge for electric cars."
The startup is still very much in stealth mode and not much is known about its technology, but they have released broad details about what they are working on in a press release for the announcement of the round of investment:
"Ample has invented an economical, rapidly deployable and widely accessible platform that delivers a full charge to any electric car in minutes. An alternative to traditional charging, Ample uses autonomous robotics and smart-battery technology, making it feasible for anyone to own an electric car regardless of driving needs, economic means, or geographic location."
The startup was founded by Khaled Hassounah and John de Souza, two engineers who originally co-founded the online health community MedHelp.
Hassounah, who is now CEO at Ample, commented:
"Building a scalable solution for charging electric vehicles requires a new approach to infrastructure, and partners who are committed to developing electrification as the new energy downstream,"
Steve McGrath, Investment Director of Shell Ventures, commented on their investment in the company:
"EVs in the light – and medium duty sectors are steadily gaining market share. Combining Ample's technology with Shell's existing retail network for re-fueling and our growing position in power could help us achieve our aspirations to grow a large new business in EV energy solutions."
Moore Strategic Ventures, Repsol Energy Ventures, Hemi Ventures, and TRIREC, have all also participated in the investment round led by Shell.
Oil companies have been increasingly interested in renewable energy and electric vehicle charging as they start to see electric vehicles slowly taking over the car industry.
Shell is arguably leading the charge through its involvement in the new Ionity charging network in Europe. The company is building its own chargers at its own gas stations, and recently acquired a charging network with over 30,000 chargers.
And now with their new investment in this cryptic EV charging infrastructure startup.
Update: Some information the company submitted to CARB shows that Ample is actually working on an autonomous battery swap technology.
Source: Electrek
Apple Is Leading a Plan to Develop Wind and Solar Power With Akamai, Etsy and Other Companies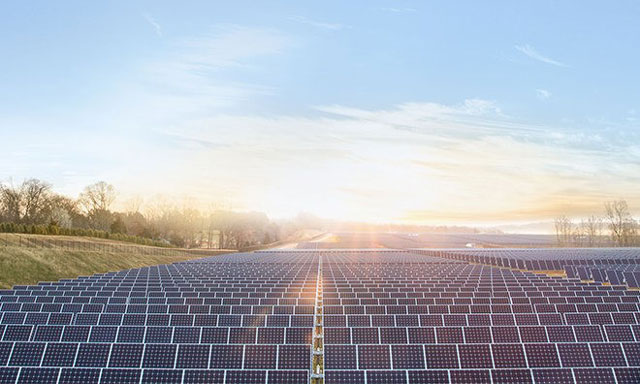 Apple is leading the development of two new wind and solar energy farms in Illinois in Virginia that will help not only bring green energy to its own operations, but also those of Akamai, Etsy, and Swiss Re.
The new projects will generate 290 megawatts, enough to power 74,000 homes, to the electric grid that serves much of the eastern U.S. Apple is leading the development in part to bring renewable energy power to other companies.
"At Apple, we're proud to power all of our operations around the world with 100 percent renewable energy," Lisa Jackson, Apple's Vice President of Environment, said in a statement. "In the process, we've charted a course for other companies and organizations to purchase renewable energy and transition their own operations to greener power."
The companies will purchase wind power from a farm near Chicago and solar power from a project near Fredericksburg, Virginia. Power from both projects is expected to come online during the next two years.
In April, Apple said its global facilities are entirely powered with clean energy. it also established a $300 million fund to encourage its suppliers to invest more in solar and wind power in Asia.
Source: Fortune
REPORT OF THE WEEK
LTE Cellular Networks for the Smart Grid
Modernizing the grid to make it smarter, more resilient and more reliable through the use of cutting-edge technologies, equipment, and controls that communicate and work together seems like a simple approach.
The challenge is greater than it appears. Delivering electricity more reliably and efficiently over the years has required the integration of non-harmonized communications technologies ranging from licensed and unlicensed RF to proprietary wireless protocols creates a complex network to upgrade and maintain.
Transitioning from the older field area networks (FAN) is an involved task, and having the right plan in place and the right technology before deployment can make all the difference.
Please click here to read the full report.