Energy incentives prioritized for Turkish economy plan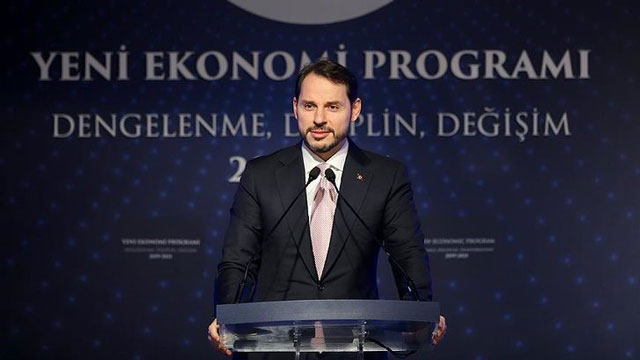 Turkey's New Economy Program for the period 2019-2021, known as YEP, will focus on energy and petrochemicals as recipients of state incentives to decrease the current account deficit. Treasury and Finance Minister Berat Albayrak unveiled the program on Thursday in Istanbul where he said the program is based on three fundamental factors -- balance, discipline and transformation.
For the energy sector, the program will prioritize the increased share of renewable energy and local coal resources for power generation. The localization of energy technologies will also be supported through the renewable energy resources zone (YEKA) model.
Last year, Albayrak, in his previous capacity as the Energy and Natural Sources Minister, presented Turkey's National Energy Strategy and vowed that Turkey would focus its diversification of energy sources on local resources. In line with this national energy strategy, Turkey opened solar and wind tenders, now as YEKA tenders, to maximize the use of local resources.
The New Economy Program stipulates that the costs of energy imports will be reduced with the help of the National Energy Efficiency Action Plan announced in April.
The National Energy Efficiency Action Plan targets $30.2 billion in savings by 2023, with the help of 55 actions to develop energy efficiency measures throughout various sectors in industry, transport, construction, agriculture, and energy generation and transformation.
The New Economy Program also states that Turkey's oil and natural gas exploration activities, particularly offshore, will be accelerated.
Turkey will also focus on mineral exploration and drilling activities, the plan noted, adding that these reserves will be utilized through new business models and financing mechanisms and with public-private partnership.
These mineral reserves, particularly boron, will be transformed into high added-value products for international markets.
The plan also includes the creation of integrated petrochemical industry zones, specifically the Ceyhan Mega Petrochemical Industrial Zone in the south of Turkey.
The Ankara-headquartered Ronesans Holding, which engages in the construction, real estate development, and energy and health activities, has signed a framework cooperation agreement with the Netherlands-based Port of Rotterdam to develop the Ceyhan Mega Petrochemical Industrial Zone that will focus on petrochemical plants.
Energy import bill to reach $46 billion in 2018
With the implementation of the plan, Turkey's energy import bill is forecast to reach $46 billion in 2018, compared to $37.2 billion in 2017. It is expected the bill will reach $43 billion in 2019, $44.3 billion in 2020 and $45.2 billion in 2021.
The calculation of Turkey's account deficit is based on the assumption of Brent oil averaging $72.80 per barrel in 2018, $73.20 per barrel in 2019, $69.70 per barrel in 2020 and $67 per barrel in 2021.
Source: AA
Turkey is capable of overcoming economic woes: BP President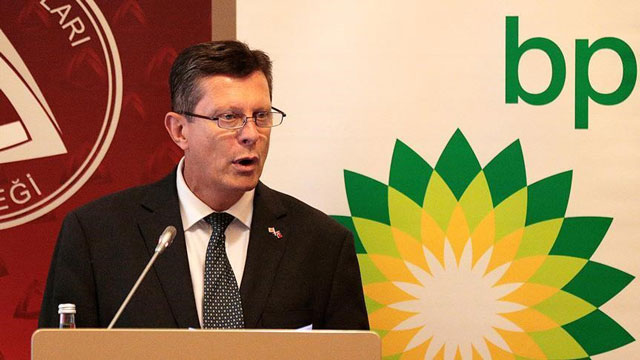 Mick Stump's remarks came during his speech on Tuesday at a meeting of the Turkish National Committee of the World Energy Council (WEC) in Ankara.
"We still have great belief in Turkey. Every economy has its short-term problems, and Turkey will get through this one," Stump affirmed at a time when the country is going through a currency crisis that has seen the Turkish lira lose almost 40 percent of its value this year.
As one of the 20 developing economies worldwide, Turkey, located in an area of geopolitical importance, remains vitally important for BP considering its long-term potential, Stump said.
Turkey enjoys an enviable position in the field of energy diplomacy, Stump said, referring to its location close to Mediterranean, Caspian and Middle Eastern energy sources while adjacent to the European market's energy consumers.
Stump explained that the rich hydrocarbon resources in the Caspian could only gain access to world markets from Turkey.
Currently, 2.5 percent of the world's oil production passes through the Turkish Straits and via pipelines such as the Baku–Tbilisi–Ceyhan (BTC) pipeline that delivers 1 percent of the world's oil.
Stump argues that taking into account the volume of global oil trade; he said this percentage was significant making Turkey strategically important for BP.
"We have investments both in the upstream and downstream, and we want to continue to grow in Turkey where we have been operating for 106 years," Stump said.
"Over this time, we have made major contributions to the Turkish economy and the energy sector, as well as to society. For BP, Turkey is one of our strategic five markets in fuels worldwide. Today, there are seven hundred service stations in Turkey and we are continuing to add new sites every year," he said.
Stump declared that BP's work over many years with Turkey's giant companies included Turkish Petroleum and BOTAŞ for both the BTC project and for the Shah Deniz giant gas field, one of the world's largest gas-condensate fields off Azerbaijan's coast in the South Caspian Sea.
"Both companies have great expertise and experience, and have contributed hugely to the success of the BTC pipeline and Shah Deniz projects. We continue to look for new opportunities to partner and grow with these great companies both in the upstream and downstream," he said.
"Invest for the future"
In response to a question on his recommendations to foreign investors considering investing in Turkey, he advised that investors think in the long term.
"Understand your market. Invest for the future. Stick with it through the difficult times. We have been here for 106 years, and we have had our ups and downs. We are still here and we are still growing," he said.
He added that although many consider BP as an international company, when it is present in Turkey it becomes a Turkish company. Localization has happened very quickly here, he said, adding, "We regard ourselves as a Turkish company."
Source: AA
When Did Turkey's Daily Electricity Demand Exceed 1 TWh?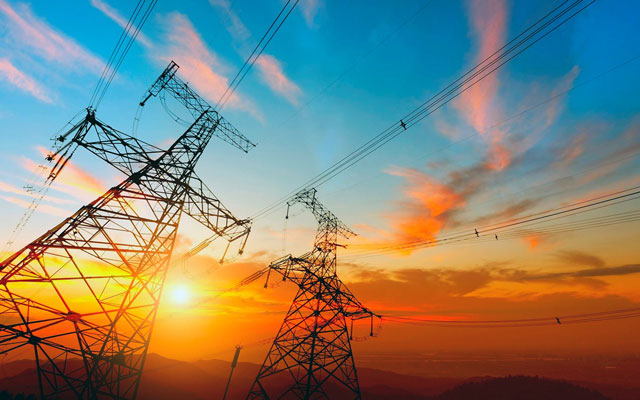 Directly monitored stations in Turkey's electricity production are more transmission-connected power plants. The data of the plants under the distribution like unlicensed solar power plants, but then it becomes definite. Both small productions and the "distributed" structures that are unfamiliar to the electrical system, lead to a deviation in all electricity statistics. Electricity generation figures are also pioneer indicators of economic growth, so this effect can also mislead other statistics. Since there is no access to these data from the EPIAS platform for now, we will develop an approach with a simple proportion.
The installed power figures for the licensed and unlicensed solar plant announced by TEIAS will be used primarily. The installed power figures for the licensed and unlicensed sun announced by TEIAS will be used primarily. Then, the electricity production figures realized through EPIAS will be taken. This table presents licensed solar figures. The remaining unlicensed solar production will be considered to be the amount of licensed solar production.
According to TEIAS installed power figures, while the licensed solar installed power is 22,9 MW, the unlicensed solar installed power is 4721 MW. It can be considered that such a profound difference would not make a proper sampling. However, neglecting such 4721 MWh of solar capacity corresponds up to 3.3% of all electricity generation.
This figure will lead to electricity consumption to exceed a "year by year monthly increase" of over 4%, not 1.76% as the news said.
When we compare the licensed solar production equivalent to the licensed solar installed power to the unlicensed installed power, the following graph is shown;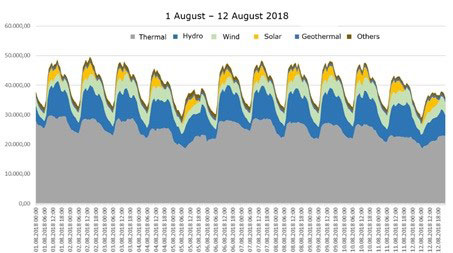 In the period from 30 July to 10 August, according to the proportion, total solar production in Turkey has occurred as follows;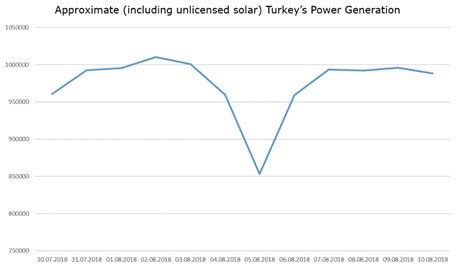 Accordingly, daily electricity production for the first time in Turkey exceeded 1 TWh, i.e. 1 billion kWh / day on August 2, 2018.
Solar power has begun to take an important place in all electric power. But, they are under the distribution system which prevents access as fast as other electrical data. In summer, the share of the sun in total production equals to 3.3%. Due to the sunshine time, it will be much lower in winter. In the same way, solar production figures are not seen (since EPIAS and TEIAS do not enter the database immediately) in the growth of electricity demand from the leading indicators of economic growth. However, the figure of 3.3% is a very big.
Although it is not exactly said, based on unlicensed solar production:
It can be said that the daily electricity production in Turkey on August 2, 2018 has exceeded 1 billion kWh / day figure,
Also, it can be said that demand has exceeded 49500 MW.
If the sun is not taken into consideration, TEIAS's electricity generation increase only from transmission will be below 2%.
Source: World Energy Council
Turkey's Akfen set to build 13 wind and solar power plants worth $530 million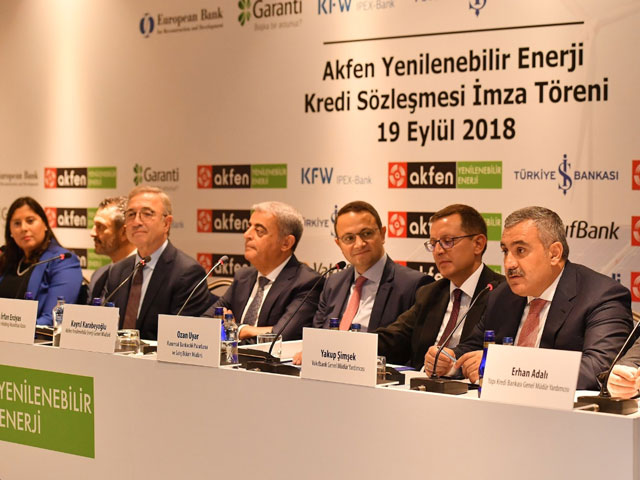 Turkey's Akfen Renewable Energy is to build 13 wind and solar power plants with a total investment of $530 million, Akfen said on Sept. 19.
In a written statement, it said it would provide $167 million of the investment from its own resources with the remaining $363 million provided by a loan from six Turkish and foreign banks: European Bank for Reconstruction and Development (EBRD), İşbank, Vakıfbank, Garanti Bank, Yapı Kredi Bank and KfW IPEX-Bank.
The loan with an average maturity date of 15 years is to cost approximately 7 or 8 percent to the company in interest rate terms, Akfen Renewable Energy CEO Kayrıl Karabeyoğlu said at the press meeting in Istanbul, as reported by Reuters.
"With the projects that we will realize, we are taking firm steps towards our aim to reach a total installed capacity of 1,000 MW in clean energy generation by 2020. We will continue to make new investments and potential acquisitions, especially in the wind power sector, in the upcoming period," Akfen chair Hamdi Akın said.
"Then we will hold an initial public offering," he added. Akın also noted that the government should immediately announce the purchase guarantees in renewable energy if any so the sector can make new investments.
Source: Hurriyet
Renewable Energy India (REI) Expo held btw September 18 – 20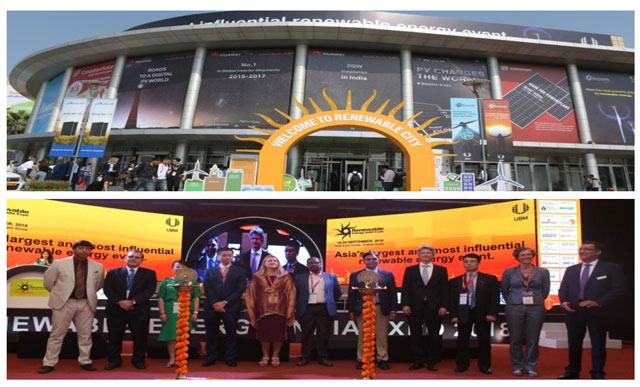 UBM India launched the 12th edition of the Renewable Energy India (REI) Expo, the three day (18th to 20th September 2018) show at the India Expo Center, Greater Noida. The expo was inaugurated by key dignitaries including Shri Manu Srivastava, IAS, Principal Secretary, New and Renewable Energy Department, Government of Madhya Pradesh; Dr. Jasper Wieck, Deputy Chief of Mission, Embassy of the Federal Republic of Germany; Er. Neelam Janaiah, Vice Chairman & Managing Director, Telangana State Renewable Energy Development Corporation Limited (TSREDCO); Mr. Takashi Omote, Executive Director, NEDO, Japan; Ms Henriette Faergemann, First Counsellor, Head of Section, Environment, Energy, Climate Change, Urbanisation, Mobility, Foreign Policy Instrument with Delegation of EU to India; Mr Justin Wu, Bloomberg New Energy Finance; Ms. Margaret Ma-Connolly, CEO, UBM Asia; Mr. Yogesh Mudras, Managing Director, UBM India and Mr. Rajneesh Khattar,  Group Director, UBM India, during the high profile Opening Ceremony on 18th September.
REI in its 12th edition saw over 750 exhibiting companies and participation from European Union - India - Clean Energy & Climate Days and Business Beyond Borders (BBB) , National Skill Development Corporation (NSDC), Skill Council for Green Jobs (SCGJ), European Business Technology Center (EBTC), Euro Chambers, Bloomberg New Energy Finance, Bridge to India, World Business Council for Sustainable Development (WBCSD), Indo-German Energy Forum (IGEF ), Solar Energy Research Institute of Singapore (SERIS), Asian Photovoltaic Industry Association (APVIA), TFE Consulting GmbH, PV magazine and Indian Biogas Association and German Biogass Association (IBA and GBA), among others, joining in the rich conference domain.
The show also featured prominent country pavilions including those of Germany, EU, Japan, Spain, China and Chinese Taipei, among others. Additionally, it featured theme pavilions such as 'Sunrisers' which is a special initiative to support start-ups and SMEs and a 'Bio Energy' pavilion in association with Indian Biogas and German Biogas Association. The 'World of Innovation', an exclusive platform for novel exhibitor product launches was organised to reach out to audience interested in novel products. Some of the key exhibitors at the expo included Tata Power Solar, Adani Power, Vikram Solar, Waaree Energies, JA Solar, Huawei, Jinko Solar, Sungrow, Canadian Solar, Mahindra Susten, ABB, Siemens Gamesa, Patanjali, Havells, Meyer Burger and Trina Solar, amongst others.
Speaking at the commencement of the 12th edition of REI, Mr. Yogesh Mudras, Managing Director, UBM India said, "The Indian renewable energy sector is the second most attractive renewable energy market in the world, China being the first. It has been aspiring to attain the prime position in the clean energy transformation, aiming to achieve at least 225,000 megawatts (MW) of installed renewable energy capacity by 2022 much beyond the targeted 175 GW. Last year, the country added more power-generation capacity from renewable sources than conventional ones.  Not surprisingly, half of the world's 10 largest solar parks under construction are in India. All this is acting as a huge pull for international investors and equipment suppliers. Along with the positives, however, plenty of challenges are also making their presence felt in the clean energy industry. Fierce competition, slowdown in new tender issuance resulting in all-time tariff lows, increase in costs with a corresponding increase in module prices, GST rollout, anti-dumping duties on raw materials that are making many of the recently auctioned projects unviable, are some of the issues we get to hear about."
"The REI over the years has duly acquired a unique dynamism and influence as a comprehensive and reputed global platform for the RE domain addressing these challenges and aiding India's green mission. This year has been remarkable with intense global participation in the form of renowned forums such as Business Beyond Borders European, Business Technology Center (EBTC), European Commission, World Business Council for Sustainable Development (WBCSD), Indo-Germany Energy Forum (IGEF), European Union, and more. REI will also witness a pre-bidding meet by the Govt. of Madhya Pradesh for its project RESCO and a session - Advantage Telangana by the Govt. of Telangana making it one of the must attend event for green energy professionals in India and across the globe," he further added.
'Accelerating Momentum…From Ambition to Action': 
The REI expo presented a power packed three-day conference themed 'Accelerating Momentum…From Ambition to Action' that encompassed knowledge -rich sessions, workshops and panel discussions by reputed global and local bodies. 
Highlights of Day 1 included a session on Advantage Telangana that focused on the State's Policy & Regulatory Landscape, Single Clearance Window mechanism and forward-looking, investor-friendly Investment Climate of the State in the domain of Renewable Energy. It also saw sessions such as - Make in India by Bridge to India on: Manufacturing in India; Modern Technologies:  Reshaping Tomorrows; a session on Shaping the Future of Indian Solar;  Battery energy storage: Backbone for future growth of renewable energy and electric vehicles; A Master class on Corporate renewable PPAs in India by WBCSD; A Quality Roundtable by PV Magazine; An Indo-German Energy Symposium that spoke about New Markets and Upcoming Business Opportunities in the Onshore Wind Sector in India; Electric Vehicles: transformation of the Indian mobility market and EV charging; A closed door CEO Roundtable - a strategic gathering that discussed the up scaling investment environment, sustainability in policy, government initiatives and entrepreneurial landscape in the RE sector.
Day 2 witnessed EU - India Clean Energy & Climate Days and International Matchmaking which is being organized by Business Beyond Borders (BBB), an ambitious project invoking SMEs and Clusters by Euro Chambers and is supported by European Business and Technology Centre (EBTC). Under its aegis, a contingent of top experts and companies from the EU have partnered with REI for EU Business Matchmaking Pavilion, Technical Seminars, Launch of EU-India Strategic Partnership for Implementation of Paris Agreement (SPIPA) - GIZ and more. The second day will also include a CTO and Finance Leadership forum; Future Roundtable India by PV Magazine; A Seris Industry Day that will talk about Solar Cell and Module Research; sessions such as - Optimizing solar power plant operation in India: challenges and opportunities for India-EU Business-to-Business exchange; Embracing digitalization of energy through data and technology; Offshore wind energy deployment in India: perspectives for the wind turbine business by TFE Consulting GmbH; E-Enhancing energy efficiency in buildings: India's potential to use smart technologies and innovative business models for nearly-zero energy buildings; Solar & Storage Production & Markets in Asia: Supporting the Global Response to Climate Change by APVIA; New Trends in Solar Power Asset Operation; Embracing digitalization of energy through data and technology by TFE Consulting GmbH and Financing/Investing Challenges for Smart Buildings and NZEBs.
Day 3 saw Technical Presentations and Case Studies such as Evolution of Biogas Ecosystem - Convergence of Technology, Incentives, & Policies and a session on Women in the Renewable Sector and their perspective on technology and innovation. 
The trade show was preceded on September 17th by the 4th Renewable Energy India Awards that aimed to recognize the innovation and excellence in the industry, and promote talent. The Awards had an august audience of industry stalwarts competing under various categories from both manufacturing and implementing communities.
Source: PRNewsWire
Audi's first all-electric SUV, the e-tron, revealed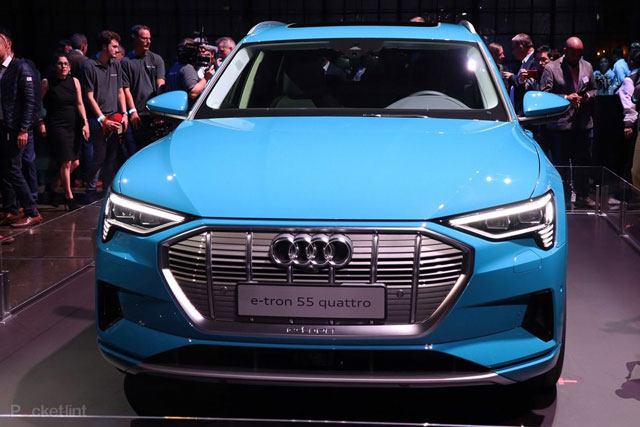 After being teased since 2016, Audi finally revealed its new and completely electric SUV, the e-tron, in San Francisco on Monday. The e-tron will be available in 2019.
This luxurious EV model will compete with the Tesla Model X and is the first automobile revealed in response to parent company Volkswagen's promise made in March of this year to mass produce e-cars; this week that initiative received an official name: "ELECTRIC FOR ALL." The plan is for the group to electrify all their vehicles by 2030 in an attempt to counter the VW emissions scandal of 2015, that is, when the EPA found a software in diesel engines that could detect when the emissions levels were being tested and alter the true value.
Volkswagen also announced Monday that the group intends to make 10 million electric vehicles in the first wave by investing $7 billion in EV production, and this Audi e-tron is just the first of the wave -- the Brussels plant is already producing 200 of these per day. They have officially become part of the luxury electric vehicle race alongside Porsche, Jaguar, Mercedes, and of course, Tesla.
As for the specs, the e-tron seats 5 people and, as advertised, is 100% electric and can be charged at home or at public charging stations. Two models of the Audi e-tron will be available next year: The Premium Plus starting at $74,800, and the Prestige starting at $81,800.
Both will be equipped with dual asynchronous electric motors, city and side assist, LED headlights, a Bang & Olufsen® 3D Premium sound system, and heated and ventilated front seats among other features. Some of the more luxurious features on the Prestige model include front seats set in Valcona leather with massage functioning, an air quality package that ionizes and fragrances the air, and a complete Driver Assistance Package.
The 95kWh battery can be fully charged in nine hours, to 80% in 30 minutes, and can exceed 400km on a single charge, which makes it the second highest-capacity battery on the EV market, and it's already available for reservation.
Source: Yahoo
"Golden Sandwich" Photoelectrode Harvests 85% Of Sunlight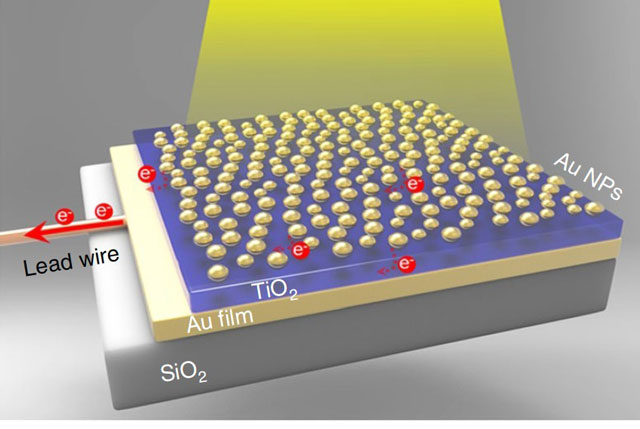 Scientists at the Research Institute for Electronic Science at Hokkaido University have created what they call a "golden sandwich," a photoelectrode that captures 85% of sunlight and uses it to split water and thus crate hydrogen. Yes, this is experimental stuff, and no, it has not yet reached commercial production. But stop and think for a minute what that could mean to the renewable energy revolution.
The breakthrough from Hokkaido University hints at renewable energy production that is 11 times more efficient than current systems. Of course, we have no idea what commercial versions of the technology might cost (if 11 times more than current systems, it's a net-zero benefit), but just imagine getting 11 times as much zero-emissions energy from a photoelectrode. The implications are staggering.
So, what's the secret sauce for making a golden sandwich? A titanium dioxide film just 30 nanometers thick with a 100-nanometer thick gold film on one side and gold nano-particles on the other. When sunlight strikes the nanoparticle side, the gold film below acts as a mirror trapping the light in the cavity between the two gold layers. That helps the nano-particles to absorb more of the available light, which is critical to the surprisingly high energy conversion factor.
In a paper reporting on their discovery published by Nature Nanotechnology (pay wall), the researchers say that gold nano-particles exhibit a phenomenon known as localized plasmon resonance, which absorbs certain wavelengths of light. "Our photoelectrode successfully created a new condition in which plasmon and visible light trapped in the titanium oxide layer strongly interact, allowing light with a broad range of wavelengths to be absorbed by gold nanoparticles," says Hiroaki Misawa, lead author of the study report. "The light energy conversion efficiency is 11 times higher than those without light-trapping functions."
Hydrogen may become an important component in the clean energy economy of the future, but most of the commercially available hydrogen today is derived from reformed natural gas, which itself is a product of fracking. Hydrogen is a non-starter for clean energy so long as it depends on the extraction of natural gas by unnatural means.
The researchers conclude their report by saying, "Using very small amounts of material, this photoelectrode enables an efficient conversion of sunlight into renewable energy, further contributing to the realization of a sustainable society." That can't happen soon enough for a planet that is under increasing stress from carbon emissions.
Source: Clean Technica
EU must end new petrol and diesel car sales by 2030 to meet climate targets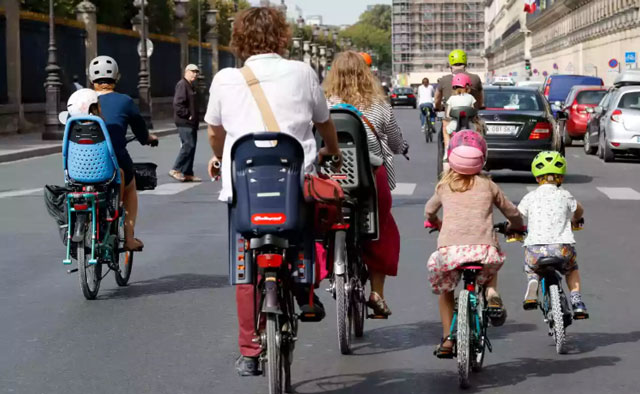 New petrol and diesel car sales in Europe must be phased out before 2030 if the auto sector is to play its part in holding global warming to the Paris agreement's 1.5C goal, a new analysis has found.
Forecourt plug-in hybrids will also have to disappear by 2035 at the latest, according to analysis by the German Aerospace Centre (DLR).
Vehicle emissions have barely changed over the last decade and the industry will exhaust its carbon budget within five to 10 years unless there is a radical shift, the DLR scientists say.
"Auto CO2-emissions need to peak as soon as possible," Prof Horst Friedrich, DLR's director, told the Guardian. "Looking at the dwindling carbon budget it is crucial to push low-emitting cars into the market, the earlier the better, to renew the fleet."
The study warns that "stark measures" would be needed to do this with a 66% chance of meeting the 1.5C goal – including a drop in conventional car sales from around 15m this year to 5m in 2022.
Under this scenario, the last vehicle with an internal combustion engine would be sold in 2028 and diesel and petrol powered-cars would be banished from the roads by the mid-2040s.
Behavioral change towards walking, cycling and public transport would also be necessary.
"It would be much easier to keep a 2C target because there is a higher carbon budget and therefore more time to implement the necessary measures," Friedrich said. "I estimate it could provide us with up to 10 years more time to prepare much better for the fundamental transformations necessary."
A draft report by the UN Intergovernmental Panel on Climate Change makes clear that 2C of warming would expose around 10 million more people in coastal areas to floods, storm surges and crop damage than 1.5C would. Global sea levels would also rise by an extra 10cm, heatwaves would be longer, extreme weather events stronger, economic growth lower, while crop yields and water availability would substantially decline.
So far, the European commission has proposed a 30% cut in vehicle emissions by 2030, although MEPs are pushing to raise that figure to 45%.
The UK government has announced that sales of all new petrol and diesel vehicles will be banned by 2040, while some countries including Germany, Ireland, India and the Netherlands have set a more ambitious deadline of 2030.
Energy utilities have often led calls for greater ambition and Kristian Ruby, the secretary general of Eurelectric, the power sector trade association, said that the current EU proposal was "not in line with the Paris objectives".
He told the Guardian: "The timeline of a full phase out by 2030 does sound quite ambitious. Car makers are only ramping up now for around 20 new electric models that will come to market next year. But this needs to happen, and faster than currently seen by the European commission. There is no doubt about that."
Some analysts also believe that Europe's car manufacturers have made no real-world improvement in auto CO2 emissions for five years, because of the "gaming" of emissions tests.
A spokesperson for the European Automobile Manufacturers Association said: "It is still hard to predict whether the alternative powertrains will have gained a significantly high market share by 2030. This is dependent on factors that are outside the control of automobile manufacturers, such as the necessary recharging infrastructure being in place as well appropriate incentives."
Source: The Guardian
REPORT OF THE WEEK
BP Energy Outlook 2018
The Energy Outlook explores the forces shaping the global energy transition out to 2040 and the key uncertainties surrounding that transition. It shows how rising prosperity drives an increase in global energy demand and how that demand will be met over the coming decades through a diverse range of supplies including oil, gas, coal and renewables
Please click here to read the full report.