Turkey will protect its energy rights in eastern Mediterranean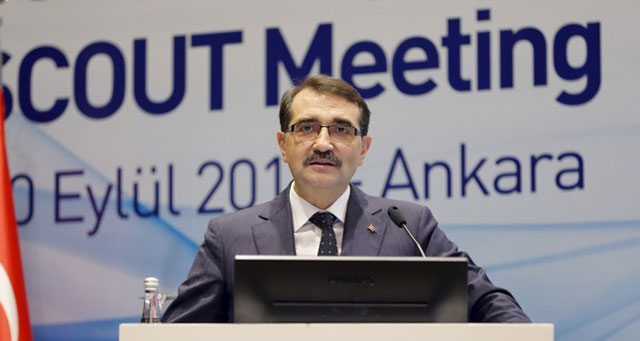 Turkey will not allow any unilateral hydrocarbon drilling or exploration in the eastern Mediterranean Sea, Energy and Natural Resources Minister Fatih Dönmez confirmed on Thursday. Speaking at the 9th Exploration and Production Activity Consultation meeting in Ankara, Dönmez said that Turkey would not allow any parties to breach Turkey's rights or those of the Turkish Republic of Northern Cyprus (TRNC) based on international law.
Turkey on many occasions has contested the Greek Cypriot administration's unilateral drilling activity for gas in the Eastern Mediterranean, saying Turkish Cypriots also have rights to the resources around the area.
According to the Greek Ekathimerini newspaper, Greek Cypriot Minister of Energy, Commerce, Industry, and Tourism Yiorgos Lakkotrypis and Egypt's Oil Minister Tarek El-Molla signed an agreement on Wednesday for the construction of a sub-sea pipeline to export natural gas from the Cyprus Island to Egypt. The pipeline will transfer natural gas from the island's Aphrodite natural gas field to a liquefaction plant based in the Edku town of Egypt's Beheira governorate.
Turkey, in its capacity as a guarantor on the island, has also strengthened its presence in the Mediterranean Sea with its seismic and drilling vessels - the Barbaros Hayrettin Pasa, Oruc Reis and Fatih. The Fatih vessel will conduct its first drilling in the Mediterranean in the new few months, he revealed. This drilling is based on the success from Turkey's exploration and production industry, which has spent over $10 billion in the past 16 years.
"The exploration and production industry is creating $5 billion in value with its subsidiary industries today, but our potential is far above that," he said. "We prevented imports of $20 billion in return for these investments, however, we are not at the point we want to be," he added. He also vowed that domestic production would increase to support a strong economy and encourage more energy independence through utilizing Turkey's local resources.
Source: Daily Sabah
Turkey Energy Summit will be held on October 9 – 10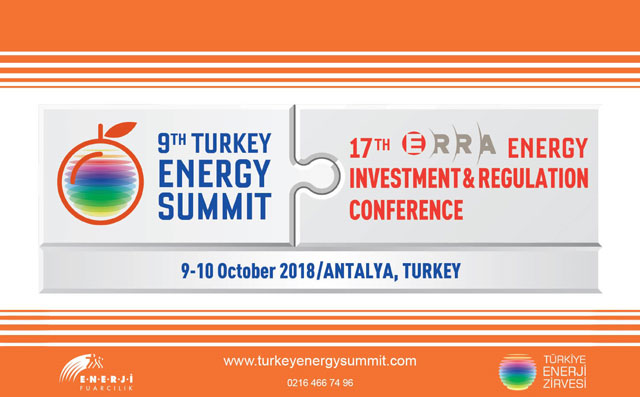 Turkey Energy Summit has been organized annually since 2010 by in a variant city of Turkey. The summit brings the entire energy sector together creating an ambience for discussions on current subjects between the delegates. Having a unique exhibition area for the companies to present products and new technologies, it is carried out with the participation of important guests in renewable energy and nuclear power fields, particularly in electricity and natural gas industries and successfully continuing to grow each year.
This year's summit will be held in Antalya between October 9 – 10, together with 17th ERRA Energy Investment and Regulation Conference.
Organized under the auspices and support of the Ministry of Energy and Natural Resources, The Turkey Energy Summit is an excellent communication platform where the legal deposits and regulations are adjusted to a free market model in the country's renewable energy, electricity and natural gas industries that are made to attract both domestic and foreign investors.
Turkey Energy Summit also delivers achievement awards. Golden Voltage and Golden Valve awards by Gas&Power Network and Green Power newspapers and Golden Barrel and Golden Bottle awards are presented by Energy Petrol Gas newspapers during the gala dinner organized within the scope of Turkey Energy Summit. The awards are given in order to encourage the companies, operating in the energy industry to carry out social responsibility projects.
One day before the 9th Turkey Energy Summit, 8 October 2017 Golf Cup is organized in Antalya.
Source: Turkey Energy Summit
Turkey develops new renewables support scheme: EBRD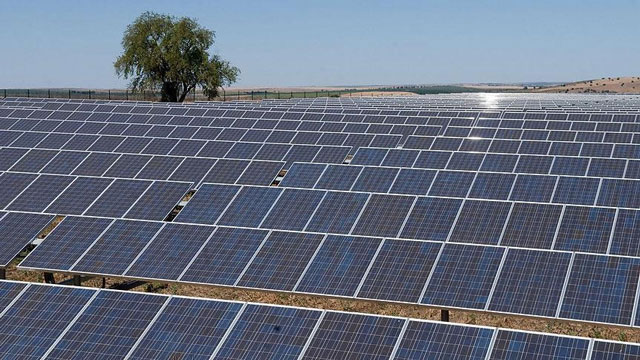 The European Bank for Reconstruction and Development (EBRD) to support Turkey in preparing a new renewable energy support mechanism to back investments after 2020, which is planned to be finalized towards the end of the year, senior banker at European Bank for Reconstruction and Development (EBRD) said Monday.
Andi Aranitasi, a senior banker at EBRD, told that currently, not having a guarantee purchase price makes the renewable energy projects more challenging to finance because it requires the lenders to make long-term price forecasts and to bear market risk. It will still be possible to finance good renewable projects but the financing structures would be more conservative, he said adding that the government would like to go with a different system than YEKDEM.
Turkey has feed-in-tariffs for renewable energy power plants under Renewable Energy Support Scheme (YEKDEM). The feed-in-tariffs is $0.133 for solar and biomass, $0.105 for geothermal, $0.073 for wind and hydro plants and it is valid for 10 years.
Turkey's Energy and Natural Resources Ministry plans to end YEKDEM by 2020 and it is yet uncertain what will happen after the termination of the scheme.
"They are intending to come up with a new mechanism on how to support the renewables. As EBRD, we are working with the ministry to see whether we can come up with a new scheme which hopefully they will announce towards the end of this year that will support the renewables after 2020," Aranitasi said.
"Still the idea is to offer minimum guarantee for revenues. I think if we manage to achieve [this], it will allow renewables to continue to grow - even the guarantee is minimum, it will be enough to support. Renewables are big cornerstones of Turkish energy strategy," he said.
Aranitasi gave the examples of North Africa, Latin America and Gulf States where purchase agreement prices for solar have come down to $0.02-2,5 and is valid for 20 years.  "The new scheme will be a different form of support but it will be enough to allow the renewables to grow," he underlined.
He also said that renewable resources are very significant in terms of the EBRD's investment in Turkey which has invested €1.8 billion ever since they have started working in Turkey 10 years ago.
No request for restructuring of an EBRD loan
Aranitasi explained that about €1.6 billion of the total amount has been channeled to power sector in Turkey.  "€850 million is actually for renewables and €550 million for distribution of both electricity and gas. We have invested around €175 million for gas fired power plants. Our energy portfolio is performing well and renewable energy projects are doing somewhat better than other projects," he noted.
Aranitasi indicated that the EBRD offers Turkish companies tailored multi-currency loans to meet their financing needs. He reminded that earlier this year the bank has supported a major milestone in the privatization of state-owned power plants in Turkey with a $55 million dual currency loan where $35 million in dollars and the equivalent of $20 million in Turkish lira to Entek Elektrik Uretimi AŞ, a subsidiary of Koç Holding.
"There are companies borrowing in dollars but usually when their revenues are dollar indexed, like in the case of YEKDEM renewables. Where our borrowers have revenues mostly in Turkish lira, we also try to lend in lira to match the revenue stream to their debt obligations," he explained.
In Turkey, some companies -- and among them energy companies -- asked for restructuring of their debts to banks due to floating exchange rates as they borrowed in dollars. Turkish private sector have invested $95 billion in the last 10 years in electricity generation and around $60 billion of this amount have been borrowed from banks, of which are mostly Turkish banks, a Turkish Industry & Business Association (TUSIAD) report indicates.
The current debt stands at $43 billion while $37 billion of this amount belong to Turkish banks. Of the $37 billion current debt figure, YEKDEM projects have a share of around $22 billion while $15 billion is for other gas, domestic and imported coal power plants.
"Our financing structures are robust and so far no energy company has requested restructuring of an EBRD loan," Aranitasi pointed out.
Investments to continue
Aranitasi also said that the EBRD traditionally invests annually around €200-300 million in power sector in Turkey and aims at maintaining the same level next year. He also reminded the EBRD supported Turkey's Akfen Renewable Energy with $102 million for 13 renewable power plants last week. "We may announce one more project in the last quarter," he said, however refrained from sharing further details.
Source: AA
Turkey hits daily wind power generation record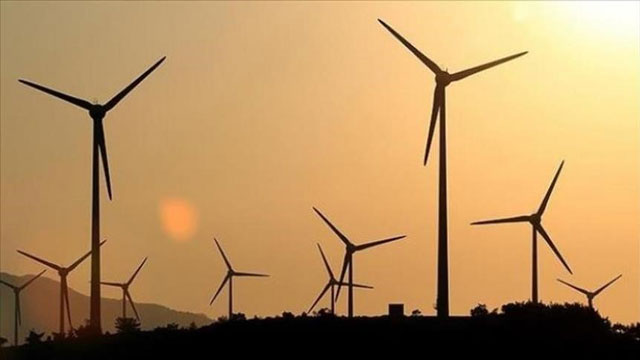 Turkey's wind electricity generation hit a daily record on Wednesday with 16.8 percent of the total power being generated from wind. The country produced 130.7 gigawatt-hours (GWh) of electricity from wind farms between 7 p.m. Tuesday and 7 p.m. Wednesday, according to data provided by the Turkish Energy Exchange (EPIAS).
In this particular time period, wind power became the third largest energy source after natural gas which generated 213.5 GWh of electricity. Hard coal came second with 180.6 GWh. Hydropower plants, kinetic energy from rivers, geothermal, biomass, fuel oil, solar, diesel and LNG supplied the remaining share of whole production which hit 780.6 GWh.
Throughout the period, wind power generation per hour remained above 5 GWh, standing at 5.45 GWh in average. According to Turkey's Energy Market Regulatory Authority, Turkey's total installed power capacity was 82 GW by the end of June. Wind power installed capacity was 6.64 GW over the same period.
Wind power in Turkey
The country plans to boost its wind and solar capacity by 10,000 MW each in the coming decade through renewable energy resources zone (YEKA) tenders. The Turkish Ministry of Energy and Natural Resources will accept applications up to Oct. 23 for one of the biggest offshore wind plants in the world at 1.2 GW, which will also be the first of its kind in the country.
The ceiling price for one megawatt-hour in the reverse bid auction has been set at $8.  Part of the tender stipulates that the winning investor, who submits the lowest bid, will sign an energy purchase agreement with the ministry for the first 50 terawatt-hours of electricity production starting from the first commissioning of the plant.
The tender specifications require 60 percent local equipment production and call for 80 percent of the engineers employed to be of Turkish origin.  Saros and Gallipoli located in the Marmara region and Kiyikoy in the Thrace were named the candidate regions for the power plant in March.
Source: AA
World Bank Offers $1 Billion for Batteries in Emerging Markets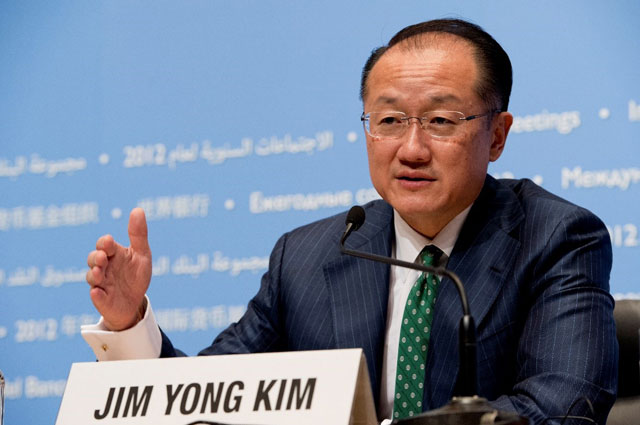 The World Bank Group committed $1 billion to finance battery-storage systems in developing and middle-income countries, and expects its participation to attract another $4 billion in backing from investors as well as public and private funds.
The effort also includes a global think tank to study battery technologies and deployment strategies, according to a statement from the One Planet Summit in New York Wednesday. Most existing battery projects are expensive and focused in developed countries.
Storage can retain electricity from wind and solar farms to use after sundown or when the wind isn't blowing, and is viewed at critical to expanding the use of renewable energy.
"Battery storage can help countries leapfrog to the next generation technology, expand energy access, and set the stage for much cleaner, more stable, energy systems," World Bank Group President Jim Yong Kim said in the statement.
Source: Bloomberg
Understanding Low-Cost, Long-Duration Energy Storage Technology: A Primer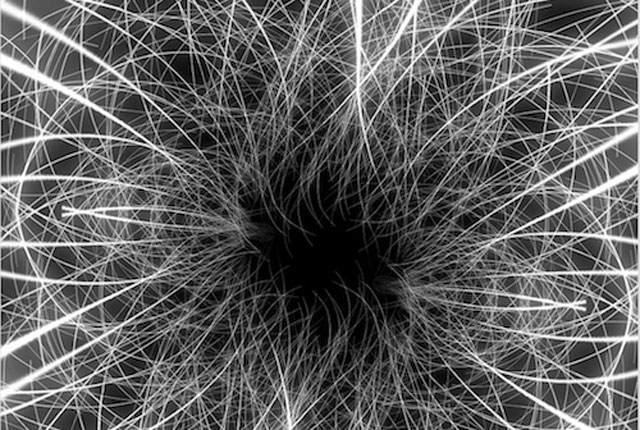 Energy storage has become an everyday element of grid planning and energy network management – driven by technology advances, proven benefits, and steadily falling prices. As storage goes mainstream, it's no longer unusual to see deployments in the tens of MWh. Although about 95 percent of operational storage in the U.S. is in the form of pumped hydro, which can store massive amounts of energy cheaply for days, virtually all of the remaining storage resources are lithium-ion batteries.
According industry analysts, energy storage deployments in the U.S. will triple in 2018 compared to 2017. As applications for energy storage have expanded with systems on both sides of the meter, there is growing interest in technology that can provide the best of both worlds: the long-duration, long-life benefits of pumped hydro (but without the lengthy siting process) — at a levelized cost of storage (LCOS) at or below that of li-ion batteries.
While lithium-ion battery deployments have ramped up steeply in recent years as costs have dropped, project developers are reluctant to place long-duration (four hours or more) demands on the technology. Lithium-ion batteries have shorter cycle lives than alternative long-duration solutions, making them uneconomical over the long-term when exercised deeply and frequently. The LCOS of flow batteries, by comparison, is markedly better for long-duration use cases, thanks to virtually unlimited cycle life without storage capacity degradation.
As with any technology choice, developers and project owners are also trying to figure out which long-duration storage applications will provide the greatest return on investment, best meet their energy needs, and/or help to build an integrated application stack to boost revenues.
Long-duration Storage Use Cases
Long-duration storage can deliver significant value in some widespread and increasingly important grid services areas, including:
Support for areas of the grid with a high renewables penetration; i.e. avoiding the "duck curve";
Grid-tied community or commercial and industrial (C&I) microgrids, where renewables plus storage can offer grid resilience and enable renewables self-consumption;
Demand management – using long-duration storage to reduce electricity charges at peak times, and multi-hour time shifting to avoid new transmission buildout;
Islands or remote microgrids, where the need exists for savings, stability, security and sustainability.
The value of long-duration storage is also recognized by regulators, utilities, and industry experts for its flexibility in addressing multiple use cases with a single storage asset.
Current and Emerging Long-duration Storage Technologies
Pumped hydropower — One of the most widely used forms of energy storage currently is pumped hydropower. Pumped hydro offers the lowest cost per MWh; the longest cycle life (40-50 years); and field-proven, unlimited storage capacity. But its drawback is geographical: it requires access to two reservoirs at different altitudes, the building of which can impact the environment and require years of permitting and construction.
A variation on pumped hydro but with a modern spin (and few geographical limits) is a new technology that uses excess electricity to pump water into the underground shale rock in abandoned oil and gas wells, creating pressure that can be released to run turbines and re-generate electricity. In theory, this type of system shows promise and is currently being piloted at small-scale.
Thermal — There are several different types of thermal energy storage. So-called "sensible storage" is the most common form, and is often paired with large-scale solar plants. A sensible heat system involves heating or cooling material with no phase change present to store either heating or cooling potential. This can be achieved using water as a storage medium, although other materials including glycol, concrete, rock, sand and molten salt are also used
Liquid air — Liquid Air Energy Storage (LAES) super-cools ambient air to a frozen liquid state, stores it in a tank and turns it back into a gas that spins a turbine when power is needed. LAES uses off-the-shelf components with long lifetimes (30+ years), resulting in relatively low technology risk. The systems share performance characteristics with pumped hydro and can utilize industrial low-grade waste heat/waste cold from co-located processes. Storage capacity extends from around 5 MWh to hundreds of MWh; with capacity and energy decoupled, the systems are very well suited to long-duration applications.
Compressed air — Compressed air energy storage (CAES) plants compress and store ambient air under pressure in underground caverns. When that energy is required, the pressurized air is heated and expanded in a turbine, thus driving a generator for power production. This technology offers an attractive LCOS, long operating life and no cyclic fatigue, but challenges include geological conditions, environmental permitting and a long construction time.
Flow batteries — Many types of flow-battery chemistries have been developed and deployed, including those based on vanadium, iron-chromium, zinc-bromine, and all-iron. They provide wide flexibility to independently tailor power and energy ratings for a given application, versus other electrochemical means and are a good solution for long-duration grid-scale storage. Flow batteries are a safe, low-cost way to store energy at grid scale, with power ratings from tens of kilowatts to many megawatts for periods of 4 or more hours. They offer reduced system complexity and maintenance; lower material and operational costs (i.e. low LCOS); greater than a 20-year cycle life with no capacity fade; and chemistries such as all-iron flow battery are cleaner, safer and non-corrosive.
Decisions, Decisions
The choice of a long-duration storage solution will depend on the grid application(s) involved, as well as performance attributes, life span, LCOS, and, in some cases geological conditions and availability of real estate.
For long-duration use cases, the solution should be able to shift four or more hours of energy capacity, with frequent cycling during each day. It should also operate at high efficiency over an unlimited number of deep charge and discharge cycles with little degradation. With this in mind, local electricity costs and new types of tariffs, such as time-of-use rates, will also be an important factor in the decision.
The world's energy markets are moving inexorably toward a distributed and decarbonized model, and it's becoming clear that long-duration energy storage will be needed in massive amounts, both to smooth the intermittencies of wind and solar, as well as to enable deferral (or avoidance) of higher-cost transmission and distribution assets. Forward-looking states like California are taking the lead with regulatory changes that boost long-duration storage as compared to fossil-fueled peaker plants.
An ideal long-duration storage technology is one that is cheap, safe and lasts a "utility lifetime" (20+ years) without degradation. In that regard, flow batteries represent a commercially viable solution. As production volumes increase, multi-hour use cases become more prevalent, and costs continue to fall, their advantages should become even more compelling.
Source: Renewable Energy World
OECD: Governments need to 'get serious' about climate action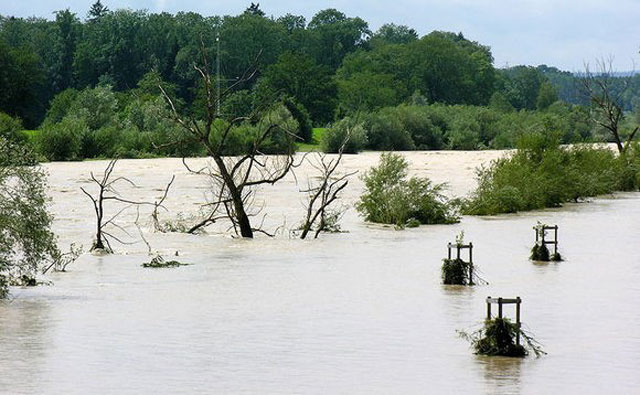 Rich countries must scale up efforts to cut carbon emissions, Organisation for Economic Co-operation and Development tells world leaders in New York
World leaders gathered in New York this week are under mounting pressure to boost their climate ambitions, with fresh warnings from the Organisation for Economic Co-operation (OECD) yesterday that most rich countries are shirking their emissions reduction obligations.
The influential organisation warned the "overwhelming majority" of governments have not taken the necessary steps to contain the threat of climate change, adding that leaders need to "get serious" about shifting their economies onto a low-carbon footing.
The OECD presented leaders at the UN General Assembly with extracts from a new report produced in conjunction with UN Environment and the World Bank. It reveals that to date just nine out of the 180 signatories to the Paris Agreement have submitted their 2050 decarbonization plans to the UN.
"After all the promises made in Paris and despite having all the tools we need at hand to move forward, this inertia risks us losing the war on climate change," said OECD Secretary-General Angel Gurría. "Governments need to implement their pledges in full and then scale up action if we are to keep the global temperature rise below two degrees. We would like to see OECD countries taking the lead and setting an example for others."
Although the Paris Agreement set an overarching target to limit average temperature rises to "well below" two degrees and as close as possible to 1.5 degrees, current climate pledges from individual nations add up to a trajectory of around 3.4 degrees of warming by the end of the century, according to Climate Action Tracker.
Campaigners hope a combination of peer pressure and the falling costs of green technologies will spur countries to up their pledges to bring them closer to a 2C trajectory ahead of the Paris Agreement coming into full effect in 2020.
But one of the major challenges to meeting global climate targets remains the amount of money available to finance a low-carbon transition, as capital continues to stubbornly flow into high carbon industries. Today's OECD report suggests climate concerns should be integrated into all budgetary decisions for areas such as government infrastructure spending, in order to ensure rich nations, lead from the front in attracting green capital.
Shifting infrastructure spending, when combined with structural reforms to support the low-carbon transition, could also increase global GDP by up to five per cent, the report suggests. But despite this economic opportunity, rich nations continue to subsidize 'brown' infrastructure including fossil fuel use, the OECD said.
Today's report follows an analysis earlier this month from the body, which stressed carbon prices are still nowhere near high enough to reflect the external economic costs of climate change or drive a widespread shift to low-carbon technologies.
While the OECD wants to see richer nations take the lead in ramping up emissions reduction efforts, it was the Marshall Islands, a nation of low-lying islands in the Pacific, that announced in New York on Monday plans to be carbon neutral by 2050.
The first island nation in the world to release such a strategy, the Marshall Islands said the plan will see it deliver rapid cuts in emissions across transport, energy, and waste sectors. It paves the way for the country to increase its 2025 emissions reduction target submitted under the Paris Agreement before the end of the decade.
"Once again, my country has shown that if one of the smallest and most isolated nations can do it - so can everyone else, including the big emitters," said Hilda Heine, the president of the Marshall Islands. "Making the transition to net zero emissions makes sense for our global economy and for our environment, as well as for our people and our planet."
And there are some signs richer nations are starting to feel the pressure. Speaking in New York yesterday New Zealand's Prime Minister Jacinda Ardern announced an extra $300m in climate-related assistance over the next four years to help Pacific countries adapt to climate change.
New Zealand is one of a handful of countries that have committed to building a net zero emission economy by 2050. However, a growing number of governments are considering similar moves. For example, the UK government has said it will investigate adopting a net zero target later this year, while the Labor opposition yesterday announced it would introduce such a target if elected. Similarly, California Governor Jerry Brown announced plans earlier this month for the state to become 'carbon neutral' by 2045.
Source: Business Green
IEA releases two reports on energy transitions in G20 countries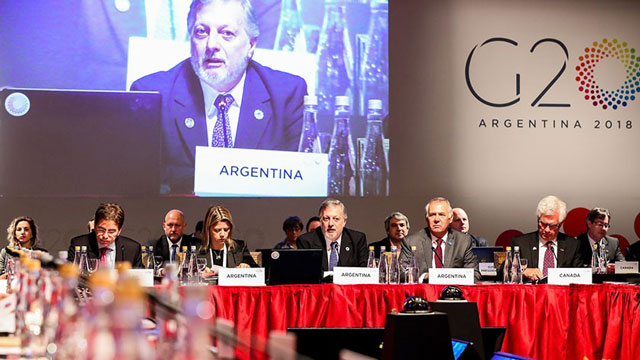 The IEA released today a pair of reports on energy transitions in G20 countries, describing progress and challenges along the path towards modernizing and diversifying our economies, improving energy security, securing energy access, improving air quality, and of course mitigating climate change.
In support of an emphasis on energy transitions, Argentina's Ministry of Energy and Mines invited the IEA to support the work stream on "Transitioning towards cleaner, more flexible and transparent energy systems", the core theme of the G20 Energy Ministers meeting in Bariloche on 15 June 2018.
The two technical reports released today by the IEA and the Ministry shed light on progress and challenges of the energy transitions.
In the first report, Energy Transitions in G20 Countries: Energy transitions towards cleaner, more flexible and transparent systems, the IEA presents a comprehensive tracking of G20 progress on energy transitions, energy access, system integration of variable energy sources and system flexibility, fossil fuel subsidy reforms, energy efficiency as well as related investment and clean energy technologies.
The second report, Energy Transitions in G20 countries: Energy data transparency and market digitalization describes how comprehensive energy data is vital to countries to make the best policy and investment decisions on energy. Measuring energy is getting more complex but the IEA along with partners such as IRENA, IEF and OLADE are showing how collaboration, transparency, innovation, capacity building and adopting the benefits of digitalization can all enhance energy statistics.
Additionally, with the support of the governments of France and Argentina, the IEA is helping to open a new chapter for international collaboration on end-use data, a priority of the G20 Energy Efficiency Action Plan.
Source: IEA
REPORT OF THE WEEK
2020 Vision: why you should see the fossil fuel peak coming
The peak in fossil fuel demand will have a dramatic impact on financial markets in the 2020s.
The global energy system is transitioning from a system mainly based on fossil fuels to one mainly based on renewable energy sources. The shift will involve near-term peaking of fossil fuel demand, an S curve of renewable growth, and the endgame for fossil fuel demand.
Please click here to read the full report.