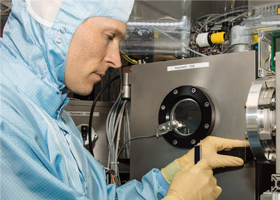 French-German partnership achieves 46% PV conversion efficiency in the lab
France-based semiconductor maker Soitec and technology firm CEA-Leti in partnership with Germany-based Fraunhofer Institute for Solar Energy Systems have tested a multi-junction photovoltaic cell that converts 46% of solar light into electrical energy.
Europe's first blockchain project to stabilize the power grid launches: TenneT and sonnen expect results in 2018
Bayreuth, Wildpoldsried, 2 November 2017. The first pilot project in Europe using decentralized networked home energy storage systems and blockchain technology to stabilize the power grid formally kicked off. Transmission system operator TenneT has been sucessfully using those home energy storage systems for redispatch. With this and after several months of preparation, TenneT and the world's largest residential energy storage company sonnen launched the pilot phase of the project, which is expected to continue until mid 2018.