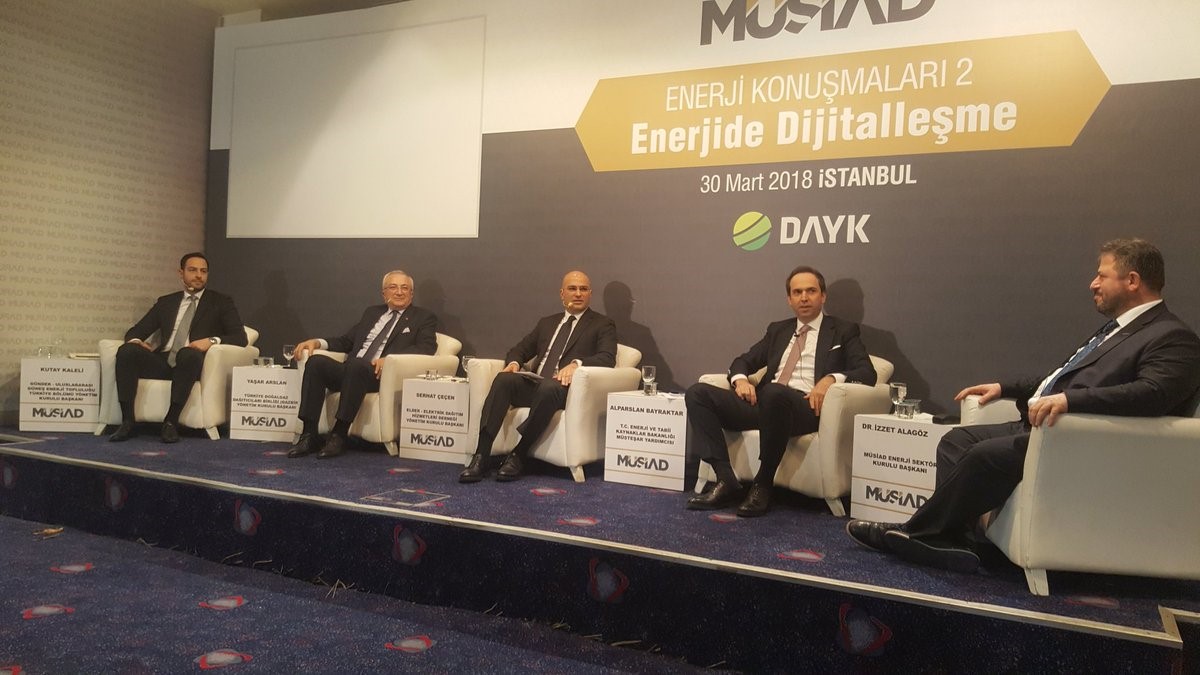 30.03.2018
MUSIAD (Independent Industrialists' and Businessmen's Association) Energy Council organized a panel named "Digitalization in Energy" on March 30, in Istanbul. ELDER (Association of Distribution System Operators) Chairman Serhat Çeçen, GAZBIR (Natural Gas Distribution Companies Association) Chairman Yaşar Arslan and GUNDER (International Solar Energy Society – Turkey) Chairman Kutay Kaleli participated to the panel, which was modareted by Ministry of Energy Deputy Undersecretary Alparslan Bayraktar.
Ministry of Energy Deputy Undersecretary Alparslan Bayraktar said that major transformations in global energy sector are emerging and Turkey is shaping its national energy policies according to those transformations. Underlining the importance of investment in renewables, he stated that countries relying on external energy sources like Turkey should try to focus on generating energy from their own resources by using advanced technology, minimizing environmental impacts and reducing carbon emmission.
ELDER Chairman Serhat Çeçen mentioned on the importance that they attach to digitalization as power distribution sector and their technology investments. Çeçen: "As power distribution sector, our technology investments in last two years are TL 500 million. Our technology investments are mainly consisting of the investments in the areas like SCADA, Geographical Information System, Outage Management System, Asset Management and Customer Relationship Management. All processes of distribution services will be digitalized with the completion of our investment in technology. Investment in human resources is as important as technology investments for us. We are working to improve our human resource profile so that they can use the latest technology tools easily."
Making a presentation titled "Digitalization in Energy Sector", GAZBIR Chairman Yaşar Arslan emphasized that fast and secure digital systems are vital in the whole chain from generation to distribution of energy. Stating the advantages that digitalization will bring to distribution sector, he explained the improvements gained in customer relationship processes due to digitalization through real-life examples. Arslan: "Our sector will start to take advantage of the technologies like IoT and Blockchain.
GUNDER Chairman Kutay Kaleli talked about contribution of energy storage systems to digitalization process and said: "In my opinion, the most crucial part of distribution networks is storage part. This has to be integrated to distribution sector. Turkey's installed solar capacity increased to 3400 megawatt as of 2017, up from 40 magewatt in 2014. Now, our goal is to increase it to 10000 megawatt until 2023."